Operating a recording studio, a booking agency and a music label, Austria's Balloon Studios has historically used large-format analogue mixing consoles up until 2009, when an SSL Matrix was installed to streamline its workflow. Now, in the company's 30th year, engineer and company CEO Thomas Jelinek has returned to analogue working with the acquisition of an 24-fader SSL AWS 948.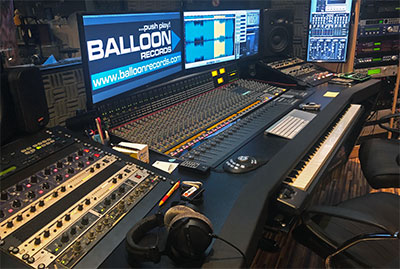 'I missed direct recording to all channels and mixing with EQs,' says Jelinek, reporting that the new desk is already transforming the way he works, and will offer his multi-faceted music business greater flexibility.
The AWS offers 48 line inputs, 24 SSL SuperAnalogue mic preamps and stereo/dual mono channel strips for a true inline console workflow. 'I used to have a 256-channel console before I changed to the Matrix' he reflects. 'It made sense for me to move to a controller work surface at the time, but as a true analogue guy I am very happy that at last I have the board I really want.'
Jelinek began his studio business in 1989 immediately after finishing school. In the early 1990s, it started gaining traction as a label and then an agency as the company worked on a number of albums with BMG and Sony.
'These were the good times of the music industry,' Jelinek says. 'It was more music production with a little artist management, but in 1995 we had a big win working with one of the first big discotheque compilations. You couldn't get these types of tracks on CD or vinyl at the time, so we started making and distributing them - and we hit number two in the Austrian compilation charts the following year. It was a big break for us as a record company – we did 25 volumes of that compilation series which ran until 2004. Now we are a label, booking agent, and studio.'
Most of the time Balloon works with DJs and in the club music scene so it's never been a typical band recording studio, but the AWS will change the game: 'The AWS is the real deal console: the EQs, the preamps, the compression – it is all so incredible. It's just amazing what we're getting sound-wise already and the AWS channel strip is just brilliant' explains Jelinek. 'I'm an old-school producer from the 1990s who learned on analogue with direct access to EQs and everything else, so I needed a great sounding console that allowed me direct access to the channels again. Now I have one.'
The future looks bright for Balloon; in 2019 the label is looking to sign more producers and DJs working within the club scene and for the first time in a long time, the studio will open its doors to live band projects. 'DJ work has always been our speciality, but I am now offering bands recording and mastering sessions which I am only able to do because of the AWS,' Jelinek explains. 'I haven't been able to do that for ten years, and now I am really excited at where we can go with it.'
More: www.solidstatelogic.com