Installed in a new studio at Oregon State University (OSU), an Audient ASP8024 Heritage Edition mixing console to be the hub of a new four-year Music Tech & Production degree starting in 2020. In the meantime, it has been put straight to work teaching undergraduates of Recording, Mixing & Mastering and Sound Design.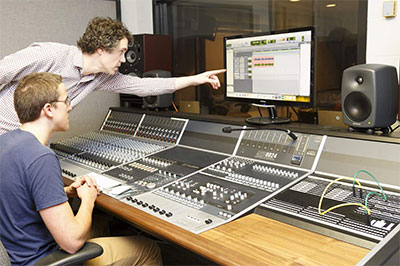 Dr Jason Fick, Asst Professor of Music Technology & Coordinator of Music Technology & Production at OSU explains that it has also been integrated into other, extracurricular activities: 'There's a Songwriters in the Round group on campus that regularly records their 'best of the year'. This group is led by Bob Santelli, former executive director of the Grammy Museum (he typically sends tracks to his LA contacts for evaluation). Other extracurricular events include recording Foley and dialogue for theatre plays and student personal projects.'
The 24-channel desk has Dual Layer Control (DLC) and an integrated patchbay, and is located in a small control room alongside a larger live room for recording, which was a pre-existing, unoccupied space, for which Fick got a grant 'to get us started with some equipment' .
'I was looking for a large frame console that was inline to provide variety to the small split consoles that we have here in our production studios,' he says. 'A sales rep pointed me in the direction of the Heritage, and I began to research it. I saw some other facilities using it and read great things. After discovering its extraordinary flexibility, as well as the built in patchbay and DLC option, I thought it would be the best fit for our programme.'
His engineering students are particularly taken with the British desk: Eric Mietzner describes it as 'an incredibly versatile studio board', and cites 'the endless possibilities it offers in terms of signal routing' as a key feature. 'It seems to have enough inputs and outputs to support the needs of many studios and their different routing situations. It was also nice to have the patchbay connected to the board to increase the efficiency during sessions.'
Throughout the year the studio currently sees more than 150 unique users, but the console is proving a draw to younger visitors too. 'I recently did a recruitment workshop for high school kids – we had about 50 in there. All of them were blown away by the console. Each summer we have an audio recording camp as well, and the studio is a key piece to this experience.'
Fick's vision for the department includes an OSU label project, amphibian studies project, work with robotics, and integration with Computer Science and New Media studies. There is talk of exploring opportunities for the studio that involve the local community as well. There's a lot in the pipeline that promises exciting times ahead.
More: www.audient.com