The Overtones played sold-out concert halls across the UK on a 26-date tour, accompanied by long-term FOH engineer Mark Clements and sound system supplied by Merlin PA Hire. The sheer variety of venues meant that the system had to be flexible while delivering the clarity of performance required for the detailed Overtones sound.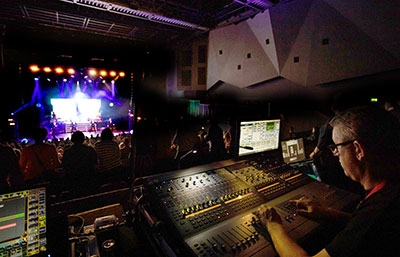 'The guys are very particular about what they want and for me it needs to be precise – crystal clear vocals and the ability to retain the character of their individual voices,' explains Clement, the band's engineer for nine years. 'It's not a broad-spectrum EQ, it's very defined for each performer and there's a lot of time spent riding the faders.' Most importantly, Overtones shows are renowned for inspiring audiences to leap to their feet and dance in the aisles.
Delivering that blend of versatility, performance and power was an Electro-Voice X-Line Advance X2 line array system driven by one of the first Dynacord TGX-20 amplifier set-ups to hit the road. In choosing to use Dynacord TGX amplifiers, Merlin PA's Neal Allen also adopted a fully Omneo workflow for the tour, combining Dante audio transport with OCA control.
'It was a leap of faith,' Allen admits. 'The TGX amps arrived two weeks before we came away and this was our first time using Omneo all the way through – a fully Dante workflow. But everything worked flawlessly.'
Depending on each venue's size and load bearing capacity, Allen specified a configuration to suit with a mixture of EV X2-212/90 and X2-212/120 elements, plus XLE181 in fill and front fills, and X12-128 subwoofers. Five Dynacord TGX-20 amplifiers per-side were housed in the rack.
'When you're preparing for a tour you need to think about the biggest venue and the smallest venue and select a system that will cater for both,' he says. 'Truck space is always at a premium, so you need flexibility in the speaker rig and the amplifiers. That's what we get with X-Line Advance and TGX.'
'The X2 sound is crisp and precise,' Clements adds. 'It also throws for days and the detail is top notch. With the TGX amplifiers, the headroom is a massive improvement and they sound great. They're also very easy to use – with the software everything is accessible in a second.'
For the band, meanwhile, achieving what they call 'the perfect sound' in the auditorium means they can focus on their performance. 'We couldn't do what we do without our technical team and without the equipment they use,' says Lachie Chapman. 'On our tour, every night we have people up on their feet from the second song – literally every night. I think that's testament to the amazing sound that we have.'