Capital of the Henan province in the geographical center of China, the Zhengzhou Art Palace recently completed a major renovation, making it a versatile, multipurpose theater – a project that included a revamp of the Art Palace's audio system.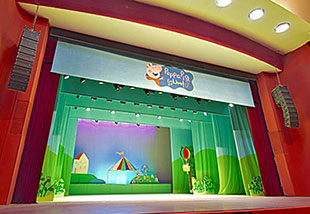 DAS Audio China was contracted to set up the audio system for the Zhengzhou Art Palace – which features two theatres, with 1,338 and 186 seats respectively – that was powerful yet adaptable enough to meet the venue's sound needs, which range from ballets and dance performances to opera and symphonies by first-class national and international groups.
Two clusters of six Aero-20A line arrays were installed as the main PA (using their integrated DASaim optimisation tool) combined with two LX-118A subwoofers flown in an LR configuration on either side of the stage. The entire system is monitored and controlled by the DASnet audio management system.
Four additional DAS Audio Artec-526 loudspeakers were installed as front fill for spectators close to the stage, while an additional four VanTec-12A boxes serve as stage monitors.
More: www.dasaudio.com