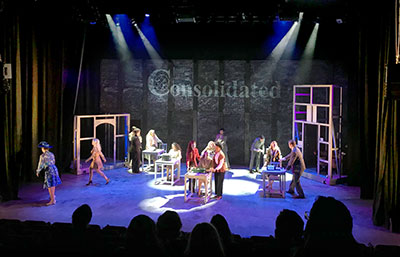 Technical Theatre students at the Guildford School of Acting's recently enjoyed hands-on experience of creating dynamic soundscapes and source-oriented vocal localisation for their musical production of 9 to 5.
Cambridge-based immersive audio pioneers, Out Board, provided the School with a TiMax spatial delay-matrix, complete with TiMax Tracker, for students to experience the creation of a sound design pushed beyond the usual boundaries of intelligibility, balance and audience immersion. After the student production, course tutor Sam Digny and guest mentor sound designer Justin Teasdale held a seminar insight day showcasing their experience and success with the advanced immersive TiMax technology. A wider audience of invited industry professionals comprised local hire companies, production managers, sound engineers and students old and new.
Out Board's Robin Whittaker hosted a morning session presenting TiMax alongside a discussion of the wider principles of sound: 'Where do you go beyond the fidelity readily achieved by modern loudspeaker systems?' he asked. 'Beyond fidelity, localisation is the obvious thing and a major part of this whole current immersion discussion, in a stage environment like this, is multiple localisations made effective for an entire audience.'
In the afternoon Teasdale presented the dynamism of the 9 to 5 soundscape, which included vocal localisation of the main cast and panoramic spatialisation of the band, who were positioned off-stage. The classic LCR Optima 5 line array system in the GSA's Bellaris theatre was augmented with a centre left and a centre right hang for 9 to 5. Loaned from Inspired Audio, these helped add extra resolution in the TiMax object-based spatial image definition rendering. The GSA's existing front fill and surrounds were supported with two extra Inspired Audio MQ12 full range enclosures to boost front fill.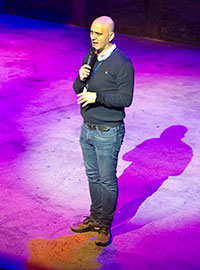 'Sound is very difficult to explain, it's not tangible,' Teasdale argues. 'But that moment – flipping to the TiMax soundscape – was so powerful. The [audience in the seminar] room could hear the sound really open up, making it feel more real, like the musicians were in the space – and for voices the action was so much easier to follow.
'For today's theatre-going audience, widely exposed to TV, cinema and personal mobile audio experiences, appreciation of stage action needs to be audibly exciting as well as visual', he continues, 'TiMax creates a listener's experience that is individual and very personal through good coverage, localisation and image reinforcement. It's a tool that will ultimately convert to bums on seats.'
Regarding the quick and simple TiMax StageSpace auto-calc workflow which was used to tailor the object-based spatialisation to the Bellaris stage and auditorium, Teasdale reports a minimum of manual intervention: 'Band spatial imaging worked fine from the first auto-calc result, with no tweaking required. Vocal imaging set-up took only one extra re-calc to change cross-stage level-shading – by simply changing one adaptive parameter and hitting Calculate.'
This echoed the experience of leading TiMax sound designers' appreciation of the StageSpace intelligent adaptive rendering, who also value the system's flexibility to also subjectively apply manual precision tweaks to its results.
The audience reacted very positively to the production, and a guest production manager observe that, 'The sound it puts onto a band in this venue is stunning so hats off to TiMax, it just adds such definition and space.'
Another revealing commented: 'You can hear the difference and the layers in it, and what sounds to me like attention to the details. It feels so integral to what you are watching that it helps you immerse'.
'The difference shown between TiMax spatialisation and just stereo was night and day, and that has made today very special,' Inspired Audio's, Chris Scott concludes.
More: www.outboard.co.uk