AC Entertainment Technologies Ltd (AC-ET) has helped full event production services company Makin Lightin to expand its inventory with equipment from Allen & Heath, DPA Microphones and Shure – providing a total of nearly 150 separate pieces of kit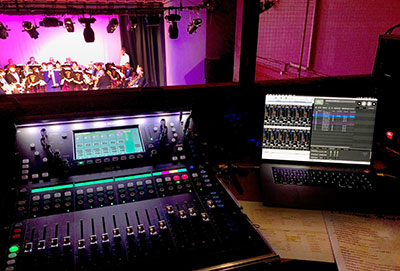 The Lancashire-based company is a major supplier to the local theatre, education and corporate events sectors, and needed to expand its audio offering to meet growing demand, as well as invest in its first video system. Having previously used AC-ET to purchase the latest technologies, owner Jonathan Makin returned for product advice and one-stop supply of everything he needed.
'As with everyone I have dealt with at AC over the years, Steve Eaton and Chris Beardwell in the audio and video sales teams are really friendly, helpful and highly skilled in their product fields,' Makin says. 'I was able to discuss the various audio options with Steve over several conversations before choosing the equipment. Similarly, being a video novice, I was given a lot of useful advice by Chris to ensure that we got the right system to cater for different clients' needs.'
To extend the company's audio inventory, he purchased Shure QLX-D handheld and bodypack wireless radio mics and accessories; DPA d:fine Core 4066 Omni headset mics; an Allen & Heath SQ-5 digital mixer and portable DX expander; and wireless mic cables assembled by AC-ET's in-house Tourflex Cabling service. 'The Shure QLX-D radio mics were straight out on a pantomime job the week after they landed with us,' Makin reports. 'Steve did a great job of getting all the kit together in time for this job, and as always, nothing was too much trouble.'
After carefully considering the budgets, time and space for client events, Makin Lightin decided to opt for a video system featuring projectors, due to the display technology's suitability for both corporate presentations and performance stage set requirements.
'AC is our 'go-to' technology supplier for everything we need. From day one, I have had a positive experience with everyone there. Its ability to supply all types of products is really handy, as it takes away the stress of managing multiple orders from different companies. I would always recommend A.C. to others and will definitely be using them again in the future.'