With a style that draws on the best of 70s disco clubs and the new millennium's underground, Mexico City's Otto Bar is an elegant nightclub located in the heart and soul of the city's nightlife. The 200-capacity venue's audio is achieved with the help of a Bose Professional sound system using F1 Model 812 Flexible Array loudspeakers, F1 subwoofers and S1 Pro Multi-Position PA systems.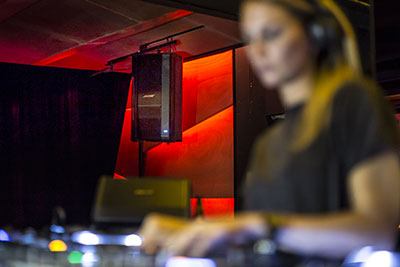 'We needed a sound system that could deliver great fidelity, nice pressure levels and solid bass – something that could make you feel the music,' says Otto Bar partner and booker Victor Mondragon. 'You can feel [Bose F1] vibrate, but even on higher volume levels you can still talk and listen to other people effortlessly.'
The flexible F1 Model 812 loudspeakers are well suited to the Otto Bar's distribution of space – suspended from the walls (close to the ceiling), and musicians or sound engineers can easily change the coverage pattern and direct it toward the audience, if needed, or point it upward and let the sound waves and spread evenly across the room. This set-up is complemented by four F1 subwoofers placed at audience level to deliver that much needed 'thump' to the chest every time the DJ cuts the bass loose.
The DJ booth adds a couple of Bose S1 Pro speakers as monitors, to keep the musicians focused on the flow of their mixes and the precision of the crossfades without having to completely isolate themselves from the crowd's cheers with a pair of headphones.
With more than a year under its belt at the current location, Otto Bar is now looking to explore new opportunities/destinations and plans to establish pop-up activations (with audio delivered by Bose portable systems) inside festivals or celebrations in tourist-heavy places like Tulum, Playa del Carmen or Riviera Maya.
The F1 and S1 Pro systems meet the bar's mobile needs with their portability (weighing 44.5lbs. and 15.7lbs. each) and versatility, as well as being convenient to mount or dismount from their original positions inside the club and go with the resident DJs or musical guests to wherever the club ends up next, which could be an open area at the beach or an enclosed room in the city. The Bose S1 Pro even comes with a rechargeable battery that offers complete autonomy and freedom of movement to the users, and wireless functionality when paired with a compatible device through Bluetooth.
'In a place with electronic music, the audio is essential. Everybody is pleased with the fidelity of the system, we've received tons of praise for the sound,' Mondragon concludes.
More: http://pro.bose.com