Among the most notable venues in the Austrian capital, the Vienna Metropol Theater provides a stage for national and international music acts, cabaret and theatre productions.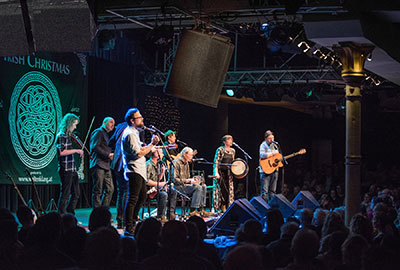 The has three stages – the main stage in the large hall has an audience capacity of 700 standing (550 seated), with the stage open on three sides and a comparatively low ceiling height. The audience sits around the stage in a 270° angle, which further complicates the sound reinforcement situation. The room acoustics are also unusual; It is characterised by a short reverberation time with pronounced diffusivity in the empty space. In short: a demanding task for every sound system.
After various modernisations were carried out in recent years, it was the sound system's turn in 2018. Austrian distributor Pro Performance set out to provide outstanding performance and seamless sound coverage across the audience with a set-up of Alcons RR12 point source array systems and universally applicable Alcons VR12. The Metropol installed the RR12 with 120° dispersion behaviour for the main area.
'The main emphasis was on very good speech intelligibility and resolution, which should be preserved even at high sound pressure levels,' says Wolfgang Sauter, owner of Pro Performance who gave the demo in the Metropol and intensively advised the client. 'Because of the low ceiling height and the associated visual limitations due to the speakers in the stage area, the aesthetics also played an important role. As the audience is in close proximity to the loudspeakers, the asymmetrical vertical projection was also of great importance. All in all, no other product met these requirements better than the Alcons RR12.'
Eight Alcons RR12s and four BF302 MkII subwoofers were subsequently installed on the main stage, controlled by two Sentinel10 amplified loudspeaker controllers.
Andreas Früchtl, long-time technician in the Metropol, is satisfied with the installation: 'In my view, the decision for Alcons Audio was absolutely correct considering the mentioned criteria, because no other product fulfilled this to the extent, like the RR12,' he says. 'And as has now been shown for several months of operation, all artists and their technicians are also very satisfied with the system. There was not a single complaint whatsoever. And as I have learned from various artists, the response of the audience is also very positive.
'I can only agree with this judgment. Our contacts in the music scene confirm that the new sound in the Metropol Theater is extremely well received,' Sauter concludes.