With his second single 'Vixen' (Fierce Panda Records) 'alternative souls solo artist VC Pines has emphatically arrived on the UK music scene. The song was produced in a tiny, gear-packed studio located above an ancient, haunted coaching inn in St Albans, using – among other tools – an Audient ASP880 mic preamp.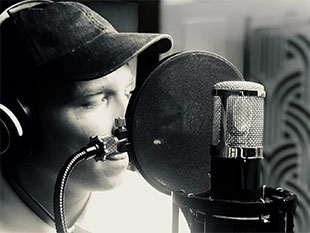 Studio owner, Paul Watson recorded, produced and mixed the record, having spent the past two years simultaneously growing his studio and helping develop the VC Pines sound.
'It has been a brilliant project to be a part of. Especially after the success of his first single on BBC 6 Music,' says Paul of his work with VC Pines – aka Jack Mercer. His first single, 'Garden Of The Year' was quickly picked up by DJ Steve Lamacq, chosen as the 'Lamacq Livener' and secured him a place on November 2018's 6 Music playlist alongside George Ezra and Joria Smith.
The studio is known to Paul and Jack as The Hub – referring to it being the centre of the creative buzz that permeates the complex, and a nod to Paul's newly-launched video platform, The Hub – and comprises two rooms. 'One of them is fairly large and will be a live room, the other is a small but great control room/writing space, which has been acoustically treated and calibrated and now boasts a full-range monitoring system.'
It might be small, but in terms of kit, there's a lot going on in the studio, combining an analogue front-end with Reaper as chosen DAW. Of the Audient ASP880 mic preamp, he was impressed from day one: 'It's performed outstandingly and has added character and personality to the vocals. Jack noticed the difference right away.
'It's remarkably clean, and easy to use. I've found it extremely warm sounding, and very quiet, too – and pretty much everything VC Pines has gone through it: any piano, or keys in general; all electric guitars – often direct, as clean as possible, adding post-FX; and all vocals.
'I can drive the unit a bit to get a warmer, thicker sound, or go a little gentler, get a lovely clean signal. The pad is useful, as is the high-pass filter on vocals; and I it's great having the ability to roll off a little of the low when dealing with a particularly boomy signal from a synth or bass guitar.'
Watson and Mercer have developed a solid musical connection: 'We have actually become collaborators, which is a real treat. The way we work is very intuitive; we'll throw in an idea or three, and commit to it, or scrap it – we don't tend to ponder over stuff. Also, we believe in performance: we're not about 'let's do five vocal takes and comp it', it's much more about getting a performance, and VC Pines normally nails it in one, or two at a push.
'It's also remarkable watching him double track a vocal – soul singers are renowned for riffing, but somehow, even when he riffs, he'll duplicate it perfectly every time. Makes my job a lot easier,' he says.
As for the future, they're taking it a single at a time for now. 'It's still early in the VC Pines journey,' explains Watson, adding, 'there will be more music coming pretty soon after this release and we're constantly writing and creating.'
More: www.audient.com