APG has appointed Andalusian audio specialist Zero Dbs to support and promote its brand and products in Spain.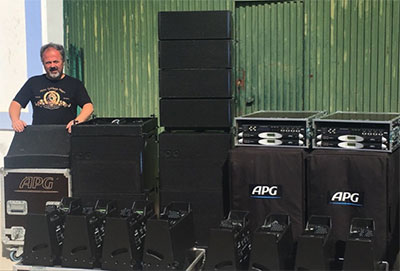 'APG products offer features that I have not found with any other brands in the industry,' says Zero Dbs Technical Director and owner, Juan Antonio Cuevas. 'The Spanish market might not know the APG brand well yet, but I'm convinced regional companies and customers will soon be aware of its qualities. Whenever we have provided APG in the past, customers have been amazed. They are usually so satisfied with their equipment that they come back for more.'
In order to raise awareness of APG in the region, Zero Dbs has arranged a series of demo days in collaboration with the APG team, to be held at the Priego de Cordoba Victoria Theatre, which was equipped with a Uniline Compact system at the end of 2018. As well as demonstrating the systems, the sessions will familiarise end-users with the technology on offer and serve to educate the region on the corporate identity of the brand itself.
The Uniline Compact system at the theatre comprises four UC206N medium/long-throw speakers, a UC206W and two SB115-M2 subwoofers per side, as well as a DMS48 digital processor and a pair of Powersoft Quattrocanali amplifiers to drive the system.
'The APG gear was easy to install and is versatile enough for any type of show, which was a requirement for the client,' Cuevas says. 'The intelligibility, sound pressure and coverage of the Uniline Compact is second to none, and its Dante-compatibility means the option for integration with a digital console is always there.
'We have already received a number of requests for installations and technical meetings with theatres, concert venues, specifiers and rental stagers. We are looking forward to making APG a major player in the region.'
More: www.apg.audio