As the owner of B4 Media Production, a live event production company based in Vero Beach, Florida, Beckie Campbell's business serves the next generation of audio engineers. 'I want to give young people work as well as a leg up that I didn't have when I started out so they can embark on a solid career path,' she says, 'I hire a lot of freelancers who are just out of college, or give students a chance to earn credit hours for internships or complete programme requirements. It's challenging sometimes, but ultimately quite rewarding.'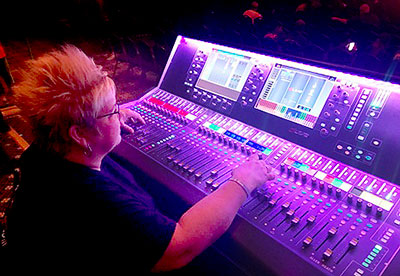 B4 has a presence around the US at conferences, festivals, faith-based entertainment events and live concerts. 'I'm not locked into anything,' Campbell says of her equipment preferences. 'I just want to use the best.
'When I first used a dLive S7000 mixing system, I instantly fell in love with the classic, warm sound of its preamps, plus the feel of it, which, if you're a traditional knob-turner like me, feels right at home. Conversely, if you're a pinch, drag, drop, and swipe kind of operator, the desk has you covered there too.'
Since many of Campbell's freelance FOH and monitor engineers are new to the game, they often arrive with experience limited to only one or two other consoles.
'Despite its world class sound and advanced features, the dLive system is simple to get up-and-running, and in terms of training, it couldn't be easier. If you are familiar with a tablet or smartphone, there's really nothing standing in the way of getting behind a dLive. Managing work flow is intuitive and quick. Nothing is hard to find or inaccessible, and with Allen & Heath's map of colour-coded functions, visual orientation is instant.'
Beyond her role at B4 Media Production, Campbell is also the chapter head of the Orlando SoundGirls: 'A number of SoundGirls have an interest in the dLive consoles,' she notes. 'They like their capacity to work with multiple stage boxes, which makes everything from patching at festivals to corporate staging all that much easier.'