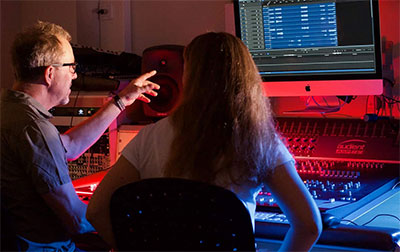 Now the centrepiece of a new studio at the school, the Uppsala Estetiska Gymnasium has completed the installation of an Audient ASP4816 analogue mixing desk.
Hosting 16-19 year old students, the upper school recently moved to a new location, presenting the opportunity to build a new studio at the same time. Teacher Anders Forsberg was responsible for kitting out the new studio, which is packed with various outboard including compressors, EQs and reverb to use with Logic ProX.
'I asked around among my friends to see what they recommended,' he says. 'We looked at several desks, but when we found the Audient we could see that it would be perfect for the way we record and teach – and the price was right too.'
Specialising in teaching Music Production and Sound & Light, Forsberg explains how his pupils have responded to the British desk: 'It is very easy for the students to use, no steep learning curve at all. After a only a few instructions, they can start recording and pretty soon they no longer need my assistance. They all appreciate the workflow and the look of the desk. I am very fond of the sound of EQ, preamps, the long faders and the ease of sound creation.'
Since the move, and inspired by the new studio, Uppsala Estetiska Gymnasium has also debuted an extra class which comes under the music production umbrella. 'The main focus of this is recording and we have high hopes that it will be successful,' says Forsberg.
Opening its doors in 1989, this is the oldest creative upper school in Uppsala, and over the past 30 years has trained many creative professionals, including audio technicians and musicians. According to the school's website, they want to ensure 'all doors are open' to their alumni after graduating.