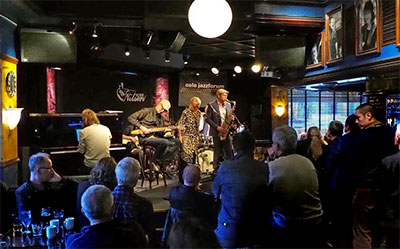 Located close to the Oslo Nye and The Norwegian Theatres, the Herr Nilsen Jazz Club is an intimate venue that hosts talent from around the globe. Last year marked the club's 25th, prompting owner Espen Nilsen to set his sights on the future with an audio update from Oslo-based integrator avon using Vue Audiotechnik systems.
Completed in late 2018, Herr Nilsen's finished design includes four Vue h-208 high-definition systems with Vue beryllium high-frequency components. The h-208's low-profile design and versatile mounting options made them the ideal fit for the club's intimate environment and low ceiling height.
To accommodate the 'L' shaped layout of the room, avon configured the four h-208s into two stereo zones and mounted them above the main stage. A pair of Vue h-5s provide front fill, while low frequency comes courtesy of two hs-25 dual 15-inch ACM subwoofers–also mounted above the stage between the h-208s.
Extending coverage to the bar area are two Vue e-352 Architectural Element Systems. Four V4 Systems Engines provide power for the h-Class speakers. As an added benefit, the client also has access to end-user level controls like mute, sleep, input, EQ and shaping; given the system's performance and precision, there is no need for house EQ adjustments, however.
'We have a discerning audience of genuine jazz enthusiasts who come here to listen, rather than just socialise,' Espen Nilson says. 'Our guests want to connect with the artists in an intimate setting. They appreciate a premium experience and our Vue Audio system is a critical piece in that equation.
'With the new system I hear a big difference overall,' he continues. 'I can especially hear the vowel sounds coming through a lot clearer. Even when we turn the system up to accommodate a packed house or different styles of music, the clarity and detail are always there. I couldn't be more pleased. Even our guests have commented.'
'Mr Nilsen has literally traded decades-old technology for a system that offers the best in modern amenities, such as DSP, networking, and beryllium high-frequency drivers,' says avon owner and principal system designer, Edgar Andraa Lien. 'Imagine buying your first new car after driving something designed three or four decades ago. It's a completely different experience with today's technology, and that's what we've created here.'
More: www.vueaudio.com