Hosting live performances that includes musicals, plays and rock concerts, as well as conferences, seminars, local dances and school awards nights, the Burdekin Theatre features an impressive 473-seat auditorium with proscenium arch and orchestra pit. Serving the Burdekin region of Australia, it recently completed an upgrade of its sound system.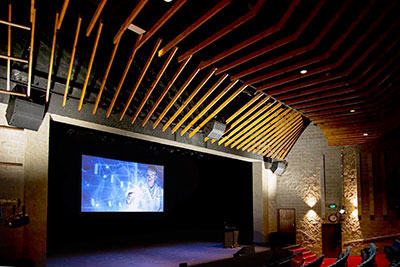 'I knew our old system was reaching the end of its life expectancy,' explains Burdekin Theatre technician, David Luscombe. 'It just wasn't keeping up with our ever-rising standards, so I took a listen to several top brands before I got the opportunity to experience an in-person demo with Wayne Grosser, the Clair Brothers' audio and design consultant here in Australia. After hearing the system Wayne proposed, I was sold.'
At the demo, Luscombe's audio brief for the upgrade was a system designed by Grosser to provide longevity and the best audio experience to the theatre's audiences from rock to opera. The configuration was an LCR system that would give the venue and its engineers total flexibility and headroom, while using Dante to drive the system from its Allen & Heath iLive console.
'My design approach was to use the same speaker elements in all three main hangs horizontally arrayed, which fitted within the theatre's proscenium,' Grosser says.
The Burdekin possesses good natural acoustics, so the installation of the new sound system wasn't so much about overcoming challenges as it was about making sure the room achieved its maximum potential with the perfect complimentary components. It's why this proposed Clair Brothers kiT12 system was the choice.
'The top kiT12s on each hang were 60° x 40° and the bottom kiT12s were 90° x 40°. Each kiT12 is in bi-amp mode and has its own two amp channels and Lake processing with a total of 12 1kW amplifier channels for the six kiT12s,' explains Grosser. 'This allows David and his team of engineers to trim or shade the bottom kiT12s if necessary, for the orchestra pit or certain productions that perform on the extended downstage area. Two kiT-Subs placed on either side of the stage provide even sub coverage throughout the seating area powered by a CB-D 80:4L. Four 5CX front fills work perfectly to provide vocal image to the front VIP seating rows.
'Having the same components in the LCR hang has made a significant improvement to the tonality and intelligibility in the room. And having front fill with the same voicing as the main hangs was a genius decision, really. When you hear the results, you realize why I knew this was the only way to go. Then, when you add in the four fantastic sounding Clair Brothers CB-D40:4L amps, you get headroom for days.'
The kiT12 system also enables the Burdekin team to hang the speakers in such a position so as not to impede the sight lines of the theatre's proscenium arch or obstruct video projection onto the rear cyclorama.
'The kiT12 system is a great system all the way around. Its flexibility provides us with an accurate presentation of what is being fed into the system,' Luscombe says. 'The contrast compared to our previous system is night and day. And from an audio engineer's point of view, it has completely changed how I mix in this room – I no longer have to do combat audio just to get it to sound respectable. Now I can mix from a creative perspective, allowing a much more enjoyable show from both a patron's point of view and the crew's perspective. The icing on the cake is that since the installation, we consistently receive compliments from attendees and performers who notice how great the sound is. Absolutely they do – it's a Clair Brothers system after all.'
More: www.clairbrothers.com