Recently on the road mixing FOH for Brazilian super-group Tribalistas, Dan Carvalho specified SSL's L500 Plus mixing console for both FOH and monitors.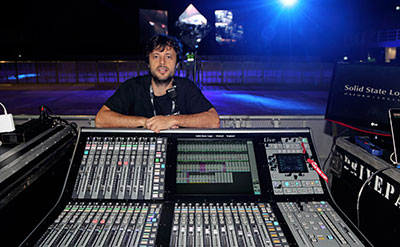 Carvalho's relationship with Tribalistas goes back 15 years to their first album recording and the early days of his career. Called back to record and co-produce album number two recently, he is now accompanying the band in touring their debut album for the first time ever.
'Because I'm a studio and a live guy, the L500 is the perfect fit for me and these Tribalistas shows, all of which we are recording,' he explains. 'The first time I saw what SSL was doing on the live side was at Lollapalooza, where I was doing sound for a smaller band, and the headliner was using an L500. At the time, I didn't know they even had a live console, but I stayed all day looking and listening to it, and it instantly became a dream of mine to work with one.'
The Tribalistas tour has seen the band fill 45,000-capacity venues in Sao Paolo and large arena runs in Rio, as well as completing a European leg before hitting US venues in February. According to Carvalho, having the L500 in tow throughout has literally been like taking a studio out on the road. 'I've worked with SSL 9000s and 5000s in top studios in Rio, and you really do feel the same quality of sound coming from the L500 as those classic consoles, which I have found utterly amazing,' he enthuses.
'I have recorded all the shows, and because we are playing to clicks and time code, everything is pretty much in sync from show to show, which has allowed me to pick out the ambience of all the shows, and sum it together. That has been incredible, and the sound we have achieved by doing that is simply huge; this was all possible because of the SSL – it's made my life so much easier out front, and has taken the sonics to a whole other place; and having another on monitors has entirely changed the stage sound for the band – they picked up on it right away.
'Being my first tour with the SSL, I was learning how to use all the features of the console as I went, and at first, I didn't use much of the delay or phase functionality, but by the last show, I was using it all,' he continues. 'I used the All-Pass filter a lot – it's great to compensate for overheads when you're close miking a tom, when you use it to adjust the phase it is simply incredible; you can apply way more low-end, as the overheads are not taking out the low of the close mics. The EQ on the desk, as you might expect, is exceptional also.'
The five-time Grammy-winner also points out that here is no problem with noise when it comes to recording: 'Normally when you split signals, you lose a little bit of sound, so you push the gain, and it can get a little noisy; but the way we did gain sharing on the SSL made it very easy to use: all fibre, and no analogue multicores or splitter. It's so much better to make a digital chain all the way to the amplifier, and it makes a phenomenal difference.'
Next year, Carvalho plans on taking the L500 Plus out on another huge tour, which he says will be 'way more rock and roll'.
More: www.solidstatelogic.com