Founded in 2012, the Moscow Musical Theatre enjoys a prominent reputation for its original productions and unusual approaches to classic stories. The 2018/2019 season has seen it make a new home for itself in the remodelled and refurbished Rossiya Theatre on Moscow's Pushkinskaya Square – one of the most frequented squares in the world. The new venue encouraged the sound department to push the creative potential of the theatre with the first permanent theatrical installation of L-Acoustics' L-Isa Hyperreal Sound technology.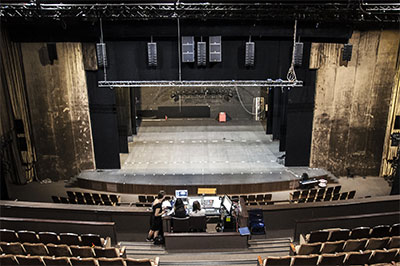 The Theatre's repertoire ranges from a rock opera production of Dostoevsky's Crime and Punishment, to a fusion of circus performance with operetta and musical genres in The Circus Princess, and a retelling of Cinderella for a more mature audience.
Its ambitious and creative stagecraft, under the guidance of Artistic Director Mikhail Shvydkoy, draws international audiences and A-List artists. Now, the sound department can be equally creative, taking advantage of object-based, multidimensional mixing, with realistic and distinct localisation of audio objects, driven natively from its DiGiCo SD10 console using Desk Link L-Isa integration. And in turn, directors can upgrade their ambition.
Head of Sound Maria Lenarskaya sees this new chapter as a natural evolution of the sound department's culture of innovation: 'Our theatre is growing rapidly. New productions appear regularly, and every year we always try to do something new, to step forward somehow,' she says.
Before the L-Acoustics installation, Lenarskaya and her team were already experimenting with discrete sources, but with traditional technology, which pushed the limits of console automation and matrixing systems. 'It was interesting, but not easy,' she says. 'It requires painstaking work on the mix. With the purchase and installation of L-Isa, we now have lots of opportunity for bringing new colours to our performances in a convenient and intuitive way. Everything is connected, and it's quick to change anything according to artistic need.'
Plans for remodelling the Rossiya Theatre got underway in August 2017, as soon as the decision had been made to relocate. The existing auditorium – previously used as a cinema – was too wide, so that was reconfigured and given new seating and additional aisles. The challenge of specifying the PA system for the new venue was given to Stage Audio, a long-standing partner of the theatre. Along with the client's creative requirements, maximum audience coverage and an accurate sound-stage were the priorities. According to Stage Audio, once those needs had been identified, L-Isa was the obvious solution and, together with L-Acoustics and its Russian distributor Sonoruss, designed and installed the new L-Isa configuration.
L-Isa works by taking post-fader, post-processing outputs for each channel and creating signal feeds for each speaker or speaker group. These feeds – up to 96 sound objects – go to the L-Isa Processor, a multicore spatial audio processing engine that that can place those objects in a three-dimensional sound field using a combination of the L-Isa Controller software parameters: Pan, Width, Distance, Elevation, and Aux Send.
Desk Link allows operators to control those parameters for designated L-Isa channels directly from the theatre's DiGiCo SD10 console and store/recall them using the console's snapshot engine. This ability to localise and move up to 96 objects in the 3D sound field, with the heightened resolution of multiple speaker hangs, brings sound designers greater creative freedom, and the potential for a more immersive, visceral experience for the audience.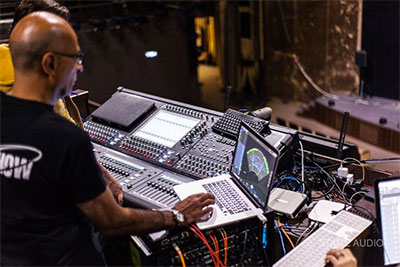 The Moscow Musical Theatre's new L-Isa installation comprises five hangs of nine Kiva II ultra-compact modular line source elements across the stage to create the main L-Isa Scene system. That is augmented by an Extension system to both sides of the Scene, consisting of two hangs of six Kiva II. Low frequencies are taken care of by two hangs of three SB18 subs flown either side of the central Kiva II hang. Importantly, all arrays are hung well above the stage, outside the audience's line-of-sight.
Two X12 multi-purpose coaxial enclosures stacked stage left and right provide outfill, whilst eight ultra-compact 5XT evenly distributed across the stage lip handle front fill. Amplification is via ten LA4X and two LA12X amplified controllers.
Positioning the low frequency sources centrally brings a significant sonic advantage across the full width of the auditorium: 'By using L-Isa with flown subs at the centre, rather than a traditional left/right system, it is easier to find the right alignment, with no extra work added on array equalisation,' explains L-Acoustics Application Manager Julien Laval, who calibrated the system. 'Having the low energy gathered at the centre brings, at last, an answer to the well-known 'power alley' issue of comb filtering outside a thin coherent zone between left/right subs while keeping impact optimum.'
According to Stage Audio, the finished system out-performed original aims by a wide margin and exceeds all modern requirements for PA systems by delivering well-localized, high spatial resolution audio to an impressive 90 per cent of the audience. General Director and Founder of Stage Audio, and Project Leader for the Rossiya Theatre installation, Andrey Akhromeev notes: 'The entire project, from system design to final tuning, was completed within a year and L-Isa now provides the theatre and its sound engineers with a completely new level of control.
'L-Acoustics clearly understood the importance of this project, and its help with designing and tuning of the system can hardly be overestimated. All calibration and training for theatre staff was completed on August 19th; the very next day, rehearsals for the new 2018/2019 season started.'
Lenarskaya confirms that while the new system has come with a substantial audio quality upgrade, is not necessarily the most significant change for the theatre. 'The improvement in sound and ease of system management are important, but are not the only advantages of this new technology. We were honoured to extend our existing L-Acoustics system and create an L-Isa Hyperreal Sound installation. It will allow us to continue to surprise, impress, and delight our audience.'
More: www.l-acoustics.com