A musician since childhood, US classical sound engineer Mark Lemaire has invested in JoeCo's BlueBox BBWR08MP interface recorder provides ahead of a series of high-profile orchestral projects.
'For an orchestral recording, there's no time for troubleshooting,' he says. 'The JoeCo is mission critical. If you're recording a live event – particularly in the classical genre – you will lose your job if you tell them something's gone wrong and they have to start again. The BlueBox shines with this, as it will not fail.'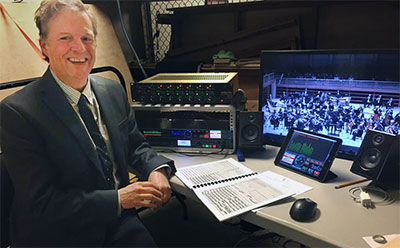 Lemaire was first propelled into the world of sound engineering in the 1980s when he helped record at a studio alongside Rolling Stones producer Jimmy Miller. Through this he gained in-depth industry knowledge, eventually transitioning from rock 'n' roll recording to orchestral and starting his own company, Rubato Recording.
It was this transition that compelled Lemaire to rethink his rig. No longer did he have the freedom and space that the studio affords and he needed something compact and robust: 'I started working in classical where the method of working is to bring your equipment to the venue. There are studios that can fit whole orchestras, but they tend to be big and expensive. So suddenly we had to have equipment that was portable enough to bring in.'
When Lemaire purchased a BlueBox, it resolved a number of previous issues. 'What I've learned is that this piece of equipment is not only smaller, but sounds better,' he says. 'The sound quality is an improvement over the system that I had before which was larger.'
As a musician, Lemaire has also benefitted from BlueBox's near zero latency: 'JoeCo has designed software that allows me to use my computer without any latency, so that's a big plus,' he says. 'It allows me to monitor what I'm singing along with.'
More: www.joeco.co.uk