Genelec has announced a new open IP networking technology platform for the installation market, to deliver power, audio, and scalable loudspeaker system configuration, supervision and calibration features via a single, standard Cat5 cable.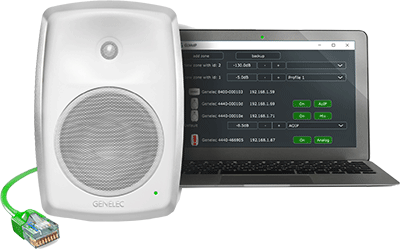 This technology will be introduced over a range of Genelec's installed audio loudspeakers, commencing in Q4 2019. Based on IP- and Power-over-Ethernet (PoE), the Genelec platform includes a proprietary internal power supply that delivers higher SPLs than previously possible via any conventional PoE – powerful enough to run small- to medium-sized systems.
In addition to its power handling, Genelec's smart IP platform also enables flexible system integration, management, and monitoring over IP thanks to Genelec GLM software. The concept of loudspeaker management by software is already a mature and well-established tool within Genelec's studio monitoring loudspeaker range, but to address the specific needs of the installed audio market, the company has developed dedicated software that offers a raft of tools focusing on solving specific audio problems including device discovery, automatic room equalisation and calibration, system organisation, and status monitoring.
The Smart IP platform solution is compatible with popular audio-over-IP networking protocols for complete flexibility and scalability. A standard analogue input is also included, increasing the system design flexibility.
'With everything delivered over a single, standard cable, including enough power to drive medium SPL applications, integrators have a complete solution at their fingertips – the highest quality loudspeakers with onboard signal processing, integrated power amplifiers and automatic room calibration, all underpinned by Genelec's renowned audio and build quality,' says Genelec R&D Director, Aki Mäkivirta. 'Additionally, since all Genelec production takes place at our factory in Finland and follows strict principles of environmental compatibility and design for a long service lifetime, it simply doesn't get any easier to guarantee sustainable quality audio installations.'
More: www.genelec.com