Established as the first theatre in Bussum – a small town 30km from Amsterdam – Spant now hosts a wide range of theatre, live music and television productions, as well as conventions and other corporate events. Fifty years old and one of the few unsubsidised theatres in the Netherlands, it is celebrating its golden anniversary with a completely updated Yamaha digital mixing system.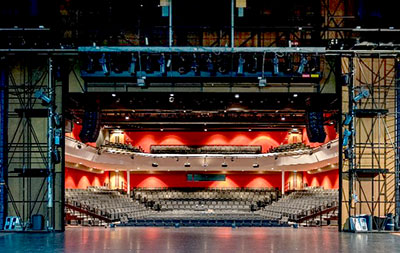 Built in 1969 as a home for local music, theatre and operetta associations the original venue – 't Spant – was replaced by new premises in 1980, designed to appeal as much to the corporate market as to the artistic. It was refurbished and renamed simply Spant in the 2000s, before being bought by its managing director Paul Haighton and financial director Bert Dijkstra. It is unusual amongst theatres in the Netherlands as being a solely commercially-operated venue and prides itself on its CO2 neutral footprint.
With two theatres – the 780-seat Podium 1 and 275-seat Podium 2 – Spant hosts around 100 theatre performances and 200 conferences and other events each year. These include many well-known Dutch productions and corporate events for local, national and international businesses.
Most productions use Spant's own technical inventory. For many years, the sound in Podium 1 was mixed on a Yamaha M7CL digital mixing console and on an 01V96 in Podium 2. Both proved very reliable so, when upgrading the audio system was planned for the end of 2018, Spant technical manager Marcel Scheewe and head of sound Jan-Willem van Vorst had no hesitation in choosing Yamaha again.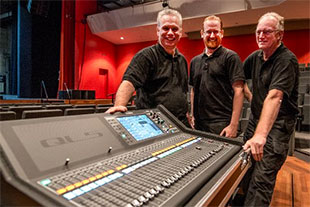 Scheewe, van Vorst and sound engineer Frans Grollé looked at a number of options, choosing a system of two Yamaha QL5s and a QL1, two Rio1608-D2 and one Rio3224-D2 I/O units and two SWP1-16MMF switches. The consoles and I/O units are used interchangeably throughout the Spant complex on a fully redundant Dante network. This provides the flexibility for the mixing system in any space to be as simple or as complex as each event demands.
'Choosing the QL series was easy, because the previous Yamaha consoles were so reliable and the workflow of all Yamaha mixers is familiar to sound engineers worldwide, meaning our own staff and visiting engineers would be equally at home on them,' van Vorst says.
Dutch Yamaha dealer Sales-All supplied and helped to install the Yamaha equipment and Dante cabling through the building to the centrally-located switches, which makes it very easy to connect the desired console(s) and I/O at any location throughout the building.
'We were also very impressed with the Dan Dugan auto mixer, which makes mixing live speech very easy at congress events,' van Vorst adds. 'As we host so many different events, having three desks from the same series makes it a very flexible system, allowing us to quickly and easily set up the sound for any situation.'
More: www.yamahaproaudio.com