Experiment Intrinsic recently piched up at East London's Shacklewell Lane Mosque for another ambient all-night adventure in electronic music. Creating spaces with sound, these are alcohol-free, limited capacity events in intimate and spiritual spaces where all the senses are catered indulged. With quality of sound of utmost importance, a TiMax SoundHub spatial processor is always at the heart of the immersive sound system.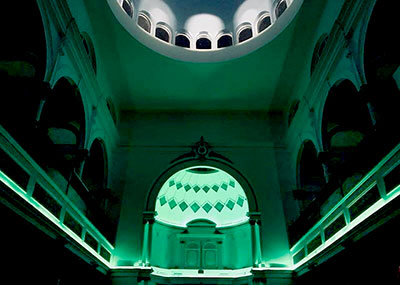 Experiment Intrinsic's sound system is curated by George Yankov of Sova Audio. Though every event's immersive audio set-up in terms of speaker and electronics configurations is dependent on the venue layout, budget and application, Yankov explains, 'TiMax is central for spatial audio control'.
Before using TiMax, Yankov claims that 'nothing ticked all the boxes for reliability, supreme audio quality, ease of use, Dante plus a combination of analogue and digital inputs and outputs'.
'With TiMax we can turn any audio source into pure sonic wizardry, the way we wanted it to be,' he says. 'We had long been on the look-out for a product that doesn't limit you in what you can do, but instead gives you a green light to figure out new ways of using it.'
For the Shacklewell Lane Mosque event, TiMax was set up so spatial image definition objects represent single output channels or combinations of multiple speakers. These define the pan positions within the 3D space and how they interact with each other. Yankov uses this consequent 'spread' to define how precise the localisation is, then automation and Midi to create ultimate excitement.
TiMax SoundHub receives the DJ feed from the mixing console via Dante. The processed signal then routes to the four and eight channel Linea Research amplifiers driving Funktion-One loudspeakers. A Midi controller pre-programmed with various panning effects triggers also connects to TiMax so that both master and auxiliary sends feed TiMax. The DJ then has full control over which sounds they want to spatialise.
The set up is proving a hit: 'Once a DJ has laid his hands on our set-ups, they spread the word of excitement and the next artist arrives even more prepared,' Yankov maintains. 'Our immersive audio systems using TiMax are becoming a benchmark for events such as Experiment Intrinsic.'
This is high praise as Yankov claims all immersive systems come with an element of 'confusion'. 'After many tests and feedback from the artists, we came up with this very straightforward set-up, where spatial audio can actually be used just like any other effects processor: by controlling the wet and dry of the effects through the auxiliary sends,' he says of TiMax. 'Such a game changer if you think outside the box.
'Sova Audio has a special approach to running its business. We choose our long-term partners very carefully and I must say you rarely find such refined gentlemen in the industry as Dave and Robin. Not only is their product second to none, but the level of customer care is phenomenal.'