DJ, songwriter, record producer and remixer Jonas Blue sold in excess of six million records worldwide with his debut single, 'Fast Car' – the biggest selling single globally in 2016 from a debut British artist, securing the top spot in the iTunes Chart in the UK, Germany, Sweden, and Australia, and achieving multi-platinum status in numerous territories, with a monumental one billion streams.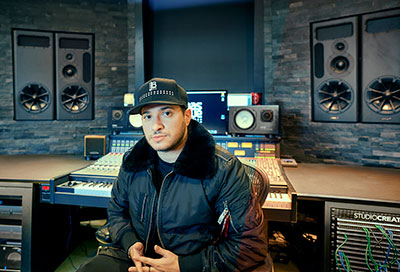 The Brit Award-nominee spends much of his time spinning records at headline shows across the globe, but he's taken a break from touring to get familiar with his newly-completed recording studio, which is based around an SSL AWS 948 δelta hybrid console. His previous studio was set up in a single garage, with synths piled on top of him. That experience taught him a lot about production, but at the same time, made him realise he wanted something 'big and epic', that he could create within his home.
It's been an 18-month project, for the London-born artist otherwise known as Guy Robin…
'It's been well worth it,' he reports. 'It's a fully commercial space, which a lot of people are not doing these days, but I see the long-term benefits. I have always wanted to work with bands; I am producing a girl group at the moment, and I look forward to doing more of that kind of work in here.'
The new studio was built with Justin Spier at Studio Creations, and comprises three rooms – a control room, a live room; and a synth room. 'Justin is an amazing guy, and when I told him all my "out there" ideas, he said they had never tried any of them before in any other studio, so that was pretty cool,'
Robin explains, revealing that the live room can be turned into a nightclub at the push of a button, with full laser show and smoke machines, and a DJ booth will also appear, seemingly from nowhere, if so desired.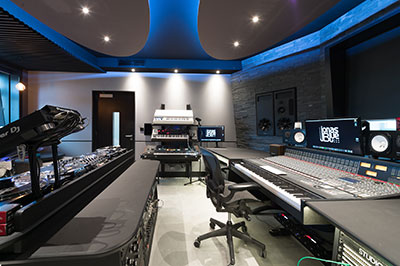 A lot of work went into realising this studio vision: 'Justin had seen my previous studio, which had no desk – it was based around an interface and my MacBook Pro – but I loved that way of working, because everything was in front of me the whole time. So I wanted to keep that element, but bring in the SSL as my studio centrepiece. So we pulled the arms, arm rest, and meter bridge off of the console, and had a whole new frame built for it, which allowed me to put my Doepfer Midi keyboard in, effectively as part of the console itself.
'We seated the keyboard slightly lower, and rebuilt an arm rest on the front, which now lays on top of the keyboard – so whenever I want to use it, I take off this lid, and it's sitting in front of me. I wanted the mentality that I work in the box, even though I have the SSL as my workstation.'
Robin uses the console in several ways within his hybrid set-up: 'I already use the SSL for a whole bunch of different things, but the idea is that down the line, it will be used constantly when I am producing bands; I will have the full scope of the desk to be able to accommodate them,' he reveals.
'The great thing about the AWS console is that you can have full control over Logic [or any DAW], and it creates a digital mixer that way, or you can actually use it for its true analogue quality. If I've got musicians in, or if I'm recording vocals, I always put everything through the SSL, as it's such an incredible sounding desk.'
Robin's preferred vocal chain is a Neumann U87 vintage, into a Tube-Tech CL 1B compressor, into a BAE Audio 1083 preamp, then into the SSL: 'I'll then do some slight EQing to the vocals on the console – I love the AWS EQ, and I am a big fan of the compression, too, which I use a lot. Then it's about committing to the sound, really. I don't like to leave things and ponder them.'
'Being able to add all my automation, and control everything within Logic has been fantastic,' he concludes. 'But also, a lot of the stuff I did on my album, I summed out to the SSL, mixed on the SSL, then brought it back in, and got it mastered. And that came out great. So it really is the best of both worlds having that desk in here; it's quite literally my dream studio set-up.'
More: www.solidstatelogic.com