Electro-clash pop star Elle Exxe will be the Resident Artist at this year's Pro7ect UK songwriting retreat.
Teaming top songwriters with top producers for three days or pure collaborative inspiration at Brighton's Hotel Pelirocco, this is the second time Elle Exe has taken part in a Pro7ect retreat where. She aims to repeat her earlier success, which resulted in the creation of two tracks for her 2016 debut album Love Fuelled Hate.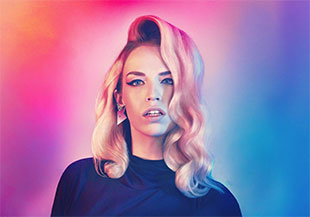 'I'm so happy to be returning to Pro7ect,' she says. 'I'm hoping this time we'll capture some more songs for a major project I'm keeping under wraps at the moment. I'm super excited to be given the opportunity to collaborate with songwriters and producers I've never worked with before and I'm confident this year's Pro7ect will be mega productive, but also mad fun.'
Edinburgh's Elle Exxe burst onto the scene with a riotous explosion of her fearsomely unique attitude, which she describes as 'Dirty Pop'. Her songs have charted in the UK with Music Week and Amazing Radio, and her music has been licensed extensively in television shows such as BT Sport, The Only Way is Essex, Hollyoaks, the BBC's Travel Show, and in an ad for Google Play that aired internationally across multiple platforms.
Her charismatic live shows have graced the stages of international festivals such as Eurosonic (Netherlands), SXSW (US), Isle of Wight and V Festival (UK) and Sziget Festival (Hungary). She even delayed her wedding to TV presenter Ade Adepitan so that she could play V Festival and Share a stage with Pink.
Pro7ect's Creative Director Lisa Fitzgibbon says Elle Exxe's return to the event is a massive endorsement of the power of collaborative creativity: 'Elle Exxe is not only a trail-blazing, rocket-ship of an artist but an incredibly inspiring and prolific songwriter. Her return to P719 as our 'Guest Artist' is going to shift the whole event up several gears,' Fitzgibbon says.
Pro7ect 2019 [which runs from 26 February to 1 March] gives songwriters and artists the opportunity to work with A-list producers to write, record and produce great music. In previous years participants have included Youth (Sir Paul McCartney/The Verve/Echo & The Bunnymen/The Orb), Roni Size (Reprazent, Method Man, Zac de la Rocha), Mercury Music Prize winner Tavin Singh, John Fortis (Razorlight, Ellie Goulding, Yellowdays), Andrew Levy (Brand New Heavies), Iain Archer (Snow Patrol, James Bay, Jake Bugg) and Matty Benbrook (Paulo Nutini, Lena, Rebecca Ferguson, Beverely Knight).
This year's producers include Stew Jackson, writer and producer for Massive Attack and a founding member of Phantom Limb; Gethin Pearson, who recently produced tracks on the To Kill a King album The Spiritual Dark Age, and Lauren Deakin Davies, an Award-winning producer who has worked with Laura Marling, Kelly Oliver, the F Spot Femmes Fatales, Kate Dimbleby, Bella Gaffney, The Christmas Present and Downtown.
For the duration of Pro7ect 2019, each producer will operate a pop up studio at Hotel Pelirocco, all of which are equipped with recording technology from Prism Sound, PMC, Focusrite/Novation, Roland and Audio-Technica among others. Songwriting participants work with the producers to write and record a track a day for three days. The teams are changed each day every evening there is a feedback session where teams play the result of their day's work to the entire group.
The Pro7ect experience is highly collaborative and often results in a large volume of material being written and recorded in a very short pace for time. There are still places remaining at this year's Pro7ect retreat; the cost of participating is between £1,089 and £1,299, which includes full board and accommodation, producers and studio equipment for four nights.
More: www.pro7ect.com