A 50-year jubilee show at the Olympic Stadium in Moscow added performances from Russian artists and special guests – including Jazz-trumpet player Arturo Sandoval and guitarist Al Di Meola – to the headlining Leonid Agutin.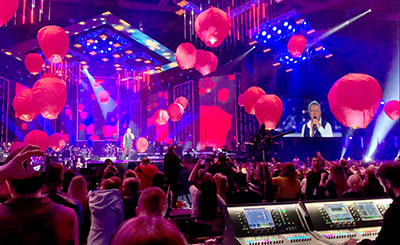 Allen & Heath's dLive mixing was used for FOH, monitors and the TV broadcast mix, with a total of five Surfaces and four MixRacks employed throughout the production. At FOH, an S7000 was used as the main control surface in conjunction with an S3000 as a dedicated FOH surface for the guest artists' engineers, as well as offering additional control over the FOH mix for the higher channel count performances.
Monitors were controlled by two C2500 surfaces that were located on either side of the stage, which handled mixes for the musicians, orchestra and choir. Additionally, each console was accompanied by a laptop running dLive Director for further control options.
'dLive was an obvious choice for this show – it has superb sound, a fast, simple interface, very low latency and unlimited routing options,' says Robert Boim, sound engineer and head of show production for Leonid Agutin. 'Since the latest firmware update release, I've stopped using all external dynamic processing plug-ins – now I keep all dynamic processing inside the system and my mix sounds even better. The sound has never been so incredibly clear and transparent.'
Two DM48 MixRacks and a DM64 MixRack were positioned on the stage, with a DX32 and DX168 Expander connected to the DM64 for additional analogue and AES I/O. Furthermore, gigaACE cards were fitted in all MixRacks enabling ultra-low latency transport of audio between the systems. Additionally, Dante cards were fitted to the S7000 and the MixRacks to support audio playback from connected computers. While, Waves 3 and superMADI cards were both used for redundant 120-channel, 96kHz multitrack recording.
With help from dLive and an Allen & Heath SQ-5, the show was also recorded for TV and a DVD to be released later next year. A dLive C2500 surface and DM48 MixRack handled the broadcast mix for a mobile TV station, while the SQ-5 tackled the recording of audience applause, singing and other live show noises (captured by a number of studio microphones positioned around the seating areas), which will be added during the mastering stage for the DVD release.
More: www.allen-heath.com