Audient is supporting the Women in Music scholarship, an initiative at the UK's University of Creative Arts (UCA) that hopes to reduce the industry's gender gap by supporting women at the beginning of their careers. The scholarship launches as an Audient ASP8024 Heritage Edition mixing desk is installed in a new recording studio at the Farnham UCA.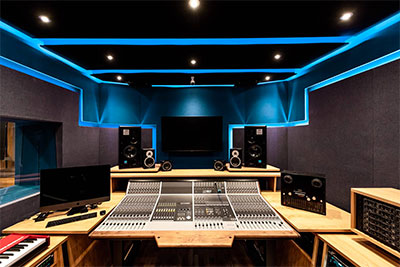 Three £5,000 scholarships will be awarded, along with industry mentoring to three women enrolling on the BA/BSc (Hons) Music Composition & Technology, Farnham Surrey in 2019, with a single prize-winner also receiving equipment from music technology specialists Audient.
'As well as offering financial support, the initiative will encompass talks, workshops and mentoring that not only celebrates innovators but also seeks to inspire a new generation,' says Dr Harry Whalley, Course Leader of the BA/BSc (Hons) Music Composition & Technology. 'We embrace the true plurality of music in terms of the tools, styles and people involved in the invention of new music. We want students to follow their individual passions while also learning the skills required to become creative practitioners today. We are committed to positive change in music education and the music industry, and are excited to be forging new links that will further support women in music.'
All students on his course will be learning their craft on the brand new Audient desk, which will also be used for postgraduate study and the Audio Research Cluster at UCA.
'We have 24 channels of ASP8024-HE going in with DLC, live room and tie lines down to the TV studio if we want to do orchestral recording,' explains Whalley, whose students are already au fait with the Audient sound. 'We also have iD4s for all our Macs - and a few iD44s. We like the D.I on those,' he says, citing 'design and reliability' as the basis for choosing Audient.
'With strong partnerships in education, Audient is delighted to support the initiative,' adds Audient Marketing Manager, Andy Allen. 'We champion inclusivity and are happy to help ensure everybody has the opportunity to be the best they can be in this industry, regardless of gender.'
Applicants to the scholarship scheme are asked to submit a portfolio of work and will be assessed on their creativity, originality, technical skill, contextualisation and potential for development, alongside their academic record.