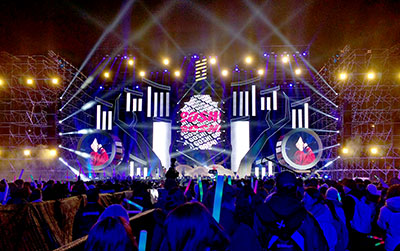 Wuhan JinMu Carnival in Wuhan City, China welcomed 2019 with a line-up of top Chinese hip-hop artists performing at Wuhan Expo Park. Headlined by acts including Tizzy T, AY, Dom. T, Ryan. B, Kungfu Pen and DamnShine, local distributor Real Music Acoustics supplied more than 80 Next-proaudio loudspeakers to serve the event.
'JinMu Carnival employs Next-Proaudio's flagship product LA212x, dual 12-inch line array element, which not only sounds natural and smooth, but also get precise power control and directivity, easily manages to cover the show with around 10,000 people audience, bringing energy to the show,' says Real Music owner, Zhen 'Richie' Wang. 'The 18 Las418 Subwoofers each side, perfectly handle the low end, filling the show with dynamic and powerful low end.'
This Next-proaudio systems included arrays of 15 LA212x three-way enclosures per-side for main reinforcement, and nine LA212x cabinets were deployed as out fill. For low-end, 36 Next LAs418 subwoofers per-side were ground stacked, 18 each side.
More: www.next-proaudio.com