Having recently equipped his personal studio in Los Angeles with a 2+1 Genelec 'The Ones' monitoring system using 8341A Smart Active Monitors rounded out with a 7360 subwoofer, Riley Mackin has found them central to his work as both engineer and mixer. As well as serving the studio, the monitors accompany him when he works elsewhere – including going on the road with Childish Gambino (aka Donald Glover) for his This Is America tour, as the recording process continues between shows in green rooms and dressing rooms in venues across the US.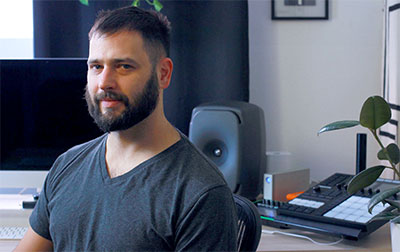 'I've had Genelecs as I've gone from studio to studio in my career; they're really everywhere, and for good reason,' says Mackin. 'I think The Ones are really even a step up from what Genelec's done before. They have an even flatter response, and translate perfectly from studio to studio, room to room, and without any listening fatigue. The low end is especially good, with plenty of punch but that stays tight with the rest of the track.'
Those qualities are critical for Mackin's work with Glover on the road. He'll set up in dressing rooms and green rooms on stops along the US leg of the tour and continue to add to Glover's steady stream of hit releases. He regards the 8341As as an especially good fit for Glover because of the breadth of his sonic range.
'He has a very eclectic sound,' he explains. 'He's mainly a hip-hop artist, so the speakers have to be able to handle the typical super low end as well as the high-hat on top, but he also has a lot of other instrumentation in between, including a Rhodes and clavinet. When you have an array of sounds like that, especially something with the hard attack of a clav, it takes a pretty amazing speaker to not let you get tired of listening. But that's what the 8341 can do. I can hear all the dynamics but without my ears getting battered.'
Mackin says that he's come to rely on Genelec's state-of-the-art and robust GLMTM/AutoCal automated calibration system, which lets him quickly get a flat response in any listening environment, a critical feature as he travels with the artist, and part of a carefully chosen signal path that also includes a Neve 1073 EQ and Empirical Labs Distressor with a Universal Audio Apollo 16 interface and an sE Electronics Gemini II cardioid tube microphone.
'I know that when I'm all set up and the 8341s are calibrated, I'll be hearing the same sound that I hear in the studio as I record and edit, no matter how bad the acoustics are in some of these rooms on the road,' he says. In fact, says Mackin, Genelec's The Ones have been so spectacular that Glover himself now also has a pair of the 8351A speakers and a 7380 sub. 'Genelec is as good as it gets,' he says, 'anywhere you take them.'
See also:
Gambino tour is child's play for Brit Row
More: www.genelec.com