Japan's most historic theatre, the Imperial Theatre was built in 1911 and gained popularity as the first European-style theatre in the country. Part of a recent refurbishment project, the theatre's audio system has been upgraded to include DiGiCo SD7T and SD10T mixing consoles.
Located close to the Imperial Palace and the Congress in Tokyo, the theatre sees famous Japanese actors and actresses performing in original shows, West End productions such as Le Miserables and Miss Saigon and Broadway musicals. Known locally as 'Teigeki', the theatre is now owned by Japanese film, theatre, production and distribution company, Toho Co.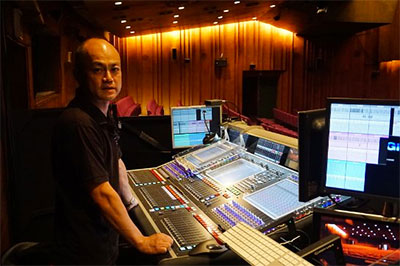 Last July, Teigeki finished its refurbishment, which included the installation of the DiGiCo SD10T, SD-Rack, SD-Mini Rack and SD-Nano Rack with new 32Bit ADC/DAC cards, which were supplied by DiGiCo's Japanese distributor Hibino Intersound Corporation and added to the existing SD7T and SD8 system.
Mr Akiyama, an engineer from flicpro co ltd, to which Teigeki entrusts its audio operation, comments: 'DiGiCo consoles and the theatre version software are essential for our work in musical theatre: 'In musicals, it is common for more than two actors to play the same role,' he says. 'Before we had the DiGiCo theatre specific software, we used to look at the cast lists to check which role was performed by whom, and then recall a library to set up EQ and so on and so on. Now, we don't have to go through this process because the Players function allows us to set up EQ, compression and attenuators for each actor and actress and each setup can be reflected in each scene really easily. It helps us a lot.'
Akiyama has already operated many shows at Teigeki theatre, including Miss Saigon in 2012 using the original SD7, SD8 and SD10 and is familiar with DiGiCo's usability and functionality: 'Having a common way of working across all DiGiCo consoles is amazing,' he says. 'Once we learnt the SD7, we could easily use other DiGiCo consoles. Also, being able to set everything up using the offline software allows us to imagine actual operation of the console, which means there is no stress when we actually load session files to console.
'Not only is the functionality great, but so is the physical size of console since musicals in Japan are often done by two operators; one for the wireless microphone and another for mixing the orchestra, which means two consoles occupy more space. Taking all this into consideration, we chose the SD10T as the ideal solution.
'When I saw the news about the 32-Bit cards, I couldn't imagine how they would sound at all, but as soon as I heard them, I knew this was quality on another level,' he adds. 'With the same system and the same tuning as I do for the main loudspeakers and wireless microphones, I used the 32-Bit cards, did a 'Check One Two' and felt the dynamic range widen and become more intelligible. When I listened to the chorus, which was made up of 30 members in the actual show, I felt each singers' voice got clearer.'
More: www.digico.org