Appealing to faithful of all ages, the Fellowship Bible Church in Sewell, New Jersey, is a non-denominational house of worship that offers both contemporary and traditional worship services. The church recently upgraded its sound reinforcement capabilities with the installation of the new CDL series loudspeakers from PreSonus Audio Electronics – making this the first full CDL series deployment in the United States.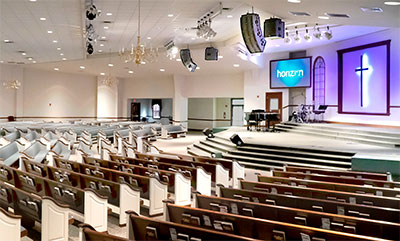 Audiovisual integration firm Horizon AVL services the worship, broadcast, and commercial markets, and was contracted to design and deploy the new sound system at Fellowship Bible Church. After consulting with church management over goals and expectations, company CEO Joshua Kell, proposed a system comprising six PreSonus CDL12 Constant Directivity Loudspeakers augmented by two CDL18s Active Subwoofers.
'The sanctuary at Fellowship Bible Church is very wide and the space accommodates upwards of 1,000 people,' Kell explains. 'With a 20ft ceiling height, the room's depth is 75ft while the width reaches 200ft. The stage faces into the width of the room. There are pews for seating. Music plays a vital role in their services and, to support this, there is a traditional band that is frequently augmented by a string section. Because of this, it was important that the new SR system not only offer clear, highly intelligible speech, it also had to be very capable in terms of music reproduction. After discussing this situation with PreSonus MD, Hugh Sarvis, and auditioning the CDL series, I was confident the new loudspeakers would make a great choice for this installation.'
The physical placement of the new loudspeakers includes two flown CDL12 clusters – each with three enclosures per the left and right sides of the stage. For low-frequency support, Kell and his team flew a single CDL18s Active Subwoofer behind each CDL12 loudspeaker hang. As both the CDL12 and CDL18s are Dante-enabled and self-powered, Kell took advantage of these capabilities. 'This system uses QSC's Q-Sys for DSP and digital audio functions while WorxControl handles gain shading and level control within each box via Dante and Cat6 cable. The system also employs AES67 cabling for audio transport.
'The vocal reproduction of the CDL series is unlike anything I have every heard,' he reports. 'The system's speech intelligibility puts the vocals front and centre – on top of the band – and the system's music reproduction is first rate. The 12-inch woofer in each CDL12 enclosure brings a warmth to the smooth and impressive high frequency drivers. The coverage in the room is not only even from left to right, it's also an impressive ±2dB from front to back. That translates to clear, even coverage no matter where you happen to be seated.
'This happens to be my local church, so I wanted a system that could offer a range of dynamics and clarity,' he adds. 'Vocal reproduction from the pastors is clear and present and in terms of music, the system delivers a full range of dynamics. For more than two years, the church struggled with a system that was old and not designed for contemporary worship. The congregation anticipated this new system for months and once we completed the installation, there was unanimous applause for the new set-up. The PreSonus CDL series not only delivers the goods, it looks impressive in the process.'