Housed in a community gathering space called The Shed, Chicoco Studios provides both recording and radio broadcast spaces to the young musicians of Port Harcourt, in Nigeria. The facility was built by young residents of the city's waterfront slums with design and installation support from by the Collaborative Media Advocacy Platform (CMAP) in conjunction with the Chicoco Collective.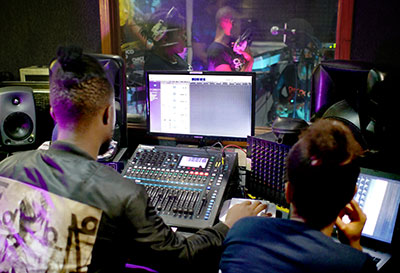 Directed by ex-BBC engineer Ana Bonaldo, with technical mentoring and support from another ex-BBC engineer Colin Neal, Chicoco Radio is centred on a pair of Allen & Heath XB-14-2 compact broadcast mixers chosen, according to Neal for their 'incomparable value and versatility – we found no other desk at this price point which features broadcast functions such as Telco channels with clean feed, talkback and remote starts for playout channels'.
While Chicoco Radio was devised to give the residents of Port Harcourt's waterfront their own voice, the studio and live performance area of The Shed offer a creative outlet for local singers, DJs and musicians. Both feature Allen & Heath digital mixing set-ups, with a Qu-16 model at the heart of the recording set-up and Qu-24 mixer and AR2412 AudioRack for live use.
'The Qu-16 was the first Allen & Heath desk that we installed, and I found it to be really well thought-out and I liked the facilities that it offered – the onboard effects, gates and compressors and so on,' says Neal. 'To get all these things in something so small and portable is impressive.
'The guys using the Chicoco music studio were soon quite at home with the Qu-16, so when it came to needing a second desk for PA use, the Qu-24 was a natural choice. This one is even more impressive, with four separate onboard effects available. The combination of the Qu-24 with the AR2412 digital stagebox and flexible Cat5e snake is great. You just plug it in, turn it on and it works, straight out of the box, no setting up required although – like all these products – customisation is easily possible. We've really been delighted with the set-up.'
The result of the investment in Port Harcourt's creative spaces is both an increasing empowerment within the local community and a growing profile further afield. The Chicoco Collective were invited to perform at Felabration (Nigeria's best-known music festival) in 2017 and were invited back again this year. They have been hailed among the hottest new acts in Nigeria.