Stage Sound Services has added a further 24 channels of Sony's DWX Generation 3 Digital Wireless system, bringing its overall channel count to more than 150.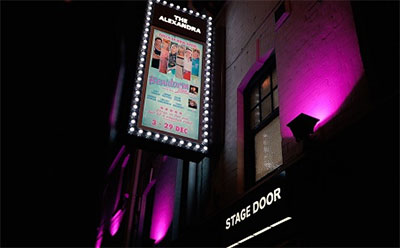 As one of the UK's leading equipment suppliers to the Theatre, TV, Film and Corporate Events markets, Stage Sound Services was an early adopter of Sony's DWX 3 technology, seeing it suited to the rigours of theatre productions, particularly touring productions. Its DWX channels were supplied by Sound Network, which distributes Sony audio equipment in the UK.
'In terms of price, reliability and sound quality, Sony's DWX Generation 3 is an outstanding digital wireless system and, in our opinion, the best on the market,' says Stage Sound Services MD, Phil Hurley, Managing Director. 'We supply equipment to numerous West End theatre productions and many of the sound designers we deal with are now specifying Sony DWX Generation 3 because they are so impressed with its sound quality. Demand for this technology is growing, which is why we have recently increased our investment by adding a further 24 channels.'
Billed as the most advanced Digital Wireless System on the market, Sony's DWX Generation 3 provides remote control of more than 8 transmitters at an extremely low latency of 1.2ms. As well as supporting digital Audio-over-IP (AoIP) using Dante, DWX Generation 3 also offers extremely long battery life with Sony's own rechargeable NP-BX1 batteries, miniature beltpacks – the smallest in volume available on today's digital systems – and very economical use of bandwidth.
'When we first tried Sony's DWX Generation 3 system we were very impressed with its features and with how well the system worked in a live environment,' Hurley adds. 'As a brand, Sony inspires confidence and we've had a long association with the company, being one of the first equipment suppliers to adopt Sony's popular miniature belt pack. Sony's entry into the digital wireless market has raised the bar in terms of performance and we are very happy to be associated with a product of this calibre.'
One of the first shows that Stage Sound Services supplied with DWX Generation 3 was Bill Kenwright's touring production of the musical Evita. Other recent productions that have deployed DWX Generation 3 include Six the Musical – a show that depicts the wives of King Henry VIII as a girl band – and Benidorm Live, where it was specified by sound designer Richard Brooke.
More: www.soundnetwork.co.uk