Among the first to invest in Yamaha's PM1D digital console, theatre sound design and rental company, Orbital Sound, has built up a mixing inventory that powered major musicals across the globe since 2001. With the firmware of the Rivage PM10 recently updated to include Theatre Mode, the company has again invested in Yamaha, with an initial two PM10 systems put straight to work on the festive pantomime season.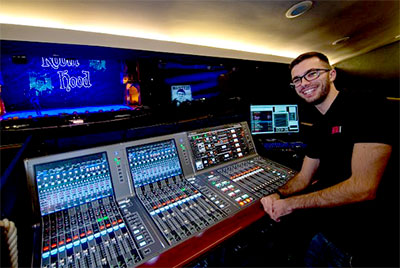 'For the market we work in, it's incredibly important that you should be able to turn the console on, know it's going to work and be able to completely trust it every day,' says Olly Steel, Orbital's head of sound design. 'We used PM1D and other Yamaha digital consoles for many years and, recently, had been looking at a new system to support our design projects. However, while the reliability and many other features were in place in the early firmware versions of Rivage PM10, it wasn't quite there with the theatre facilities that we needed. Now that has all changed, and in brilliant ways.
'We have always had a very close relationship with Yamaha and, once it became obvious that they would develop the necessary theatre features for the PM10 system, it was the right time for us to invest in the platform. An added, important bonus was that the theatre firmware upgrade does not come at any extra cost.'
The launch of Rivage v2.5 firmware in October 2018 added Theatre Mode that, among other improvements, gives scene and costume changes four banks that can be used to store different EQ and dynamics settings for individual performers. The timing of the update meant that Orbital's investment in Rivage PM10 could coincide with the festive season, during which the company designs and supplies over 40 audio systems for pantomimes throughout the UK.
'It made a lot of sense to invest in Rivage PM10 at this time of year,' Steel says. 'Because of the volume of work over the panto season, large-format consoles are in extremely high demand. So it made sense to put the PM10s straight to work. They are planned to go straight on to upcoming theatre musical productions once the panto season is finished.'
He chose Cinderella at the Bristol Hippodrome and Robin Hood at the Milton Keynes Theatre as the productions to feature the new system. They have similar-sized productions – a cast of all using wireless microphones, plus a five-piece band and a lot of playback. Both are staged by Qdos Entertainment, the world's largest panto production company. Qdos has very high production values and they have to be met in a very short time, minimising the period that venues are unavailable for other productions.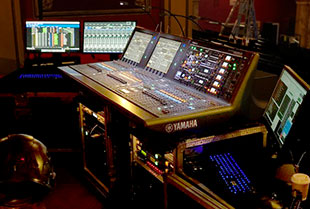 'The shows loaded in on a Sunday, soundcheck on Tuesday night, technical rehearsals until Friday, then a dress rehearsal and they opened on Saturday,' Steel says. 'There's very little time to spare on these productions, they're ambitious and extravagant for all departments, so our priority has always been making it functional and using the time as best we can. However, the PM10 systems have already made a real difference. Because they are so easy and quick to work on, we had noticeably more time to concentrate on making these shows sound great.'
That ease of use is, in part, down to the familiarity of the user interface: 'The control surface has the same ethos as the rest of the Yamaha range and every sound engineer knows how to get a mix from a Yamaha system,' Steel explains. 'PM10 is more complex, of course, but it is still usable by any engineer. It's very easy to work everything out, the functionality will be familiar to everyone.'
This was demonstrated by Piers Archer, Steel's experienced sound operator at the Bristol show. 'He toured PM1Ds and 5Ds before, but has used a different manufacturer's consoles for the past few years,' Steel says. 'He stood in front of the Rivage PM10 two days before he had to start using it and said "Great, it operates like a big CL5". The PM10 layout makes learning it very fast.
'I also really like some of the touring features. There are things which make a big difference, like the ability to configure signal paths to very fine detail – they can be very complex, but can be achieved very quickly, something which is arguably unrivalled. And things like the screen being laid out in a way that you immediately understand what you're looking at.
'On the sound side, the plug-ins are great and the audio quality is something I've not heard for a while. We're using the systems with the D2 R-series I/O units and I've been super impressed with them.'
While Steel is very happy with all the features of Rivage PM10, he again comes back to what is, ultimately, the most important thing for any major sound production – reliability.
'When I was initially talking to Yamaha about the system, I placed huge emphasis on redundancy and reliability,' he says. 'I can't stress enough how important it is to turn a console on and be totally confident that it will work. Nowadays that's truer than ever before, as sound systems are increasing in complexity every day. You need to be certain that the core of the system will work perfectly all the time. If we can rely on the equipment, it makes everything else so much easier.
'The first time I stood in front of Rivage PM10 I completely trusted it, which was a huge deal.'
With the pantomime season set to run until early January, even the star of the Bristol show noticed the difference that the new system is making. 'He has high standards and I was very pleased when he said it was the best it's ever been, and asked what had changed? I was happy to tell him it was the console. If it's reliable, has great sound quality and you can give the star what they want quickly and easily, it's obviously a winner.'
Steel describes himself as 'very excited' to have specified Rivage PM10 for these shows and to be putting it out on other theatre productions once the panto season's over. 'As soon as the theatre upgrade was announced, there was a buzz about it from theatre sound designers. I genuinely think that this upgrade will attract both a lot of younger theatre designers and PM1D users of old, who went over to other systems in the meantime. I'm sure they will quickly be coming back to Yamaha.'
Orbital MD Chris Headlam is also satisfied with the company's new investment: 'The global musical theatre world has been waiting for a theatre mixing console which is bulletproof reliable, sounds amazing, has all the power needed for a modern musical – and also really looks and feels the part.
'Nowadays people always want mixers to be smaller but, when you are making a major investment for very high profile shows, we think it's important that it should look and feel every bit as good as it sounds and works. Rivage PM10 is a proper, high quality piece of Japanese engineering in every sense. It's beautifully built, it does everything we need straight out of the box and it oozes quality. I am delighted for Orbital to be investing in PM10 for theatre and look forward to working with the systems on many productions across the world.'