Fish – former Marillion singer and front man – is presently o a solon tour using Allen & Heath's SQ-6 for FOH and monitor duties. Having left Marillion in 1988, the Scottish singer and actor is known for his charismatic stage presence and is supporting his new album, Weltschmerz, across Europe and the UK.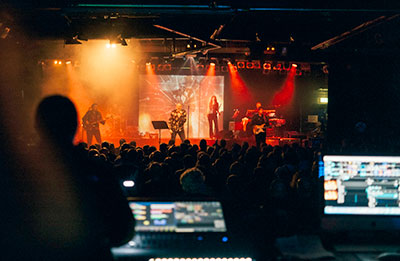 Sound engineer Steven Kent uses the SQ-6 at FOH and an AR2412 and AR84 AudioRack on stage. The SQ-6 also houses a Waves Card for low latency external processing using Waves SoundGrid. 'The main challenge of the tour is that I'm mixing FOH and monitors from the same console,' he explains. 'Some of the musicians are on in-ear monitors while others use traditional wedges, so on stage it's quite a mixture of different sounds. Being able to manage that all from the compact SQ-6 is really incredible.'
'We have the ME-1 Personal Mixing system on stage which really takes half the work load off me. The musicians can adjust their mix easily without having to ask and can simply focus on having a great time on stage.'
Prior to the tour, Kent installed the new Deep compressor plug-ins on the console which, he explains, immediately made a difference to the bands live sound: 'I use the 16T compressor on the kick drum and bass and instantly everything sounds much more focussed. For vocals and acoustic guitars, I use the Peak Limiter 76. With the guitars, we really struggled to achieve the right sound with simple compression and EQing, but with the added effects of the 76, the guitars were instantly tamed and sounded really nice! Another favourite is the Mighty Compressor, which we add to the drum groups as it creates huge transients and adds a certain punch to the mix.'
After the tour, the console will return to Fish's personal studio where the SQ's USB interface, DAW Control and monitoring features allow it to be used as a front end for a DAW.
More: www.allen-heath.com