Ensuring that no audio is ever lost is a prerequisite consideration for location sound recording – never more than with Collin Warren and his demanding and often relentless schedule. With a roster of clients that ranges from up-and-coming artists to international organisations such as The World Folk Music Association and The Chicago Children's Theatre, the US-Based recordist places his trust in a JoeCo BlackBox BBR1B multitrack recorder – which he describes as 'outstanding'.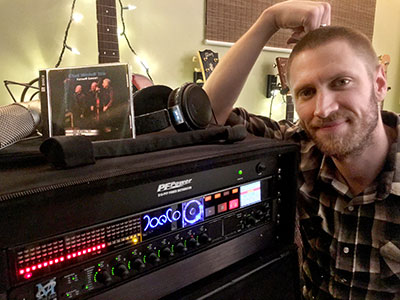 Warren has been a recording engineer since 2010 and been involved in an array of high-profile projects. Most recently, he has made a name for himself in the podcast industry, working on the production of Trade Talks, a collaboration between the Peterson Institute of International Economics and the Economist magazine – a project he often 'turns around within a day'.
In addition, Warren frequently works at front of house, recording live shows, including a current project with the World Folk Music Association, mixing a two-hour recording of a concert celebrating the life of folk legend Oscar Brand. Previous projects have included performances by the likes of Paul Yarrow, Paul Stookie and Tom Paxton.
On the horizon is a show with Porte Parole, a Montreal-based theatre troop specialising in Verbatim theatre – a new genre that involves interviewing people and then creating theatre pieces out of their responses.
No matter the show, for Warren, there's no room for slip-ups – hence why he has sought out a rig that will bolster him up: 'the main thing for me always, was to have the best rig possible'.
Explaining how the BBR1B incorporates into his rig, he says: 'I have two stand-alone computer interfaces with eight pre-amps in each box with a line level send off the mic preamps that goes directly into the BlackBox. It's a very nice little redundant rig in a 4U-high portable rack case. So, I get a primary recording via USB on the computer and a totally independent line level recording of all the tracks going into the BlackBox.'
Warren was drawn to the JoeCo recorder after seeing them become ubiquitous: 'everyone was using them,' he says. 'I came into the world of recording when it was becoming a lot easier to do these things alone.'
Not only does the BBR1B make life hassle-free for solo operations, it is a high-quality solution: 'I was looking to those recording orchestral performances for inspiration for my rig. I wanted something good quality.' However, ultimately, it all comes back to the BBR1B's reliability. 'The name of the game is it only happens once. You don't get to go back – if you miss anything it really is kind of a nightmare. So, having something that's really rock-solid is extremely helpful.
'It's paid for itself so many times over and it's got me out of a lot of jams. The idea that you can just switch it on, just a flick of a switch and it's ready to go, is outstanding to me.'
More: www.joeco.co.uk