Having marked its 20th anniversary in October, Shenzhen's Happy Valley Amusement Park has welcomed more than 30m tourists from China and overseas. The Park wanted to make special changes for its anniversary to keep the experience fresh, and decided that a sound reinforcement upgrade should be a part of them – choosing a Martin Audio WPC line array for the task.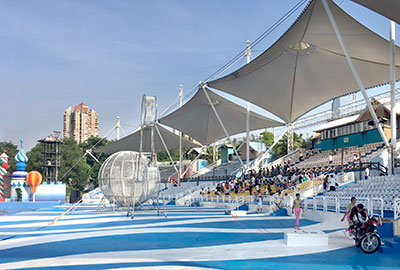 Happy Valley is China's first domestic amusement park chain, with seven locations across China and an eighth opening in 2019. Happy Valley, having previously worked with Budee and Martin Audio on its Chongqing park, again decided on the same partnership, this time for its flagship venue. The Shenzhen park is a leader in the ever-growing Chinese theme park industry and has regularly been voted top attraction by most visitors.
The park looked to upgrade its Water World sound stage, where a flexible system that could be used for a variety of shows was required. The multi-resolution options that exist in Martin Audio's Wavefront Precision offered the ability to easily adjust, based on a show's size. The digital optimisation provided by Martin Audio's Display software guaranteed the Pacific Budee technical team could guarantee the sound quality across the audience coverage area.
'The old system received a lot of complaints about sound leakage into other areas of the park, but Display allowed us to focus the sound entirely on the audience,' says Budee South China Technical Manager, Jin Le.
Happy Valley chose to go with a system comprising 16 WPC speaker elements and eight SX218 subwoofers, which could be integrated in different formations. The system is driven by Martin Audio's new iKon amplifiers.
'This is our first major installation of Wavefront Precision and also builds on our relationship with Happy Valley,' says Budee Strategic Alliance Manager, Brandon Chemers. 'It's appropriate for its 20th anniversary, as it will give plenty of options to expand as the park continues to grow.'
More: https://martin-audio.com