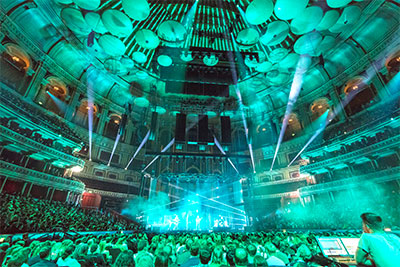 Having made history as the first band to use L-Acoustics L-Isa Immersive Hyperreal Sound technology at Forest Hills Stadium in New York earlier this year, UK indie rockers alt-J recently clocked up another first. This time it was on home ground at London's Royal Albert Hall. For the final two dates of their world tour in support of their 2017 album Relaxer and its more recent counterpart Reduxer, the UK's first ever deployment of the fully immersive revolutionary audio system brought more fans closer than ever to the band's combination of ethereal harmonies and striking sound effects, which lend themselves perfectly to this 360° audio experience.
alt-J's FOH engineer Lance Reynolds notes that the band's music includes 'a lot of interesting sonic nuggets and sound effects', and that L-Isa has allowed him to bring these to the fore in his 360° mix. This, in turn, allows the audience to truly appreciate the difference in comparison to conventional stereo live sound reinforcement and 'feel completely immersed in alt-J's music'.
For the L-Isa system, alt-J's long-time production supplier Rat Sound deployed three central hangs of 12 K2 with three Kara down each, flanked by two hangs of 16 Kara either side of the K2 hangs to create the Scene system.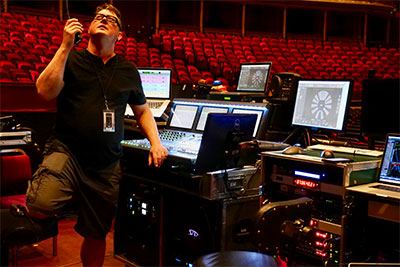 Two hangs of four KS28 were flown behind the K2 hangs. Two hangs of 12 Kara formed an extension system and two hangs of ten Kara provided side fill. Two ARCS II, left and right, sat on the stage lip, with two ARCS Wide centre stage for frontfill and three X8 per side for stalls fill. Four SB18 were positioned below the front of the stage for low-end front fill.
The surround system comprised ten Syva positioned around the top of the Gallery (Level 5), plus ten X12 evenly distributed around the bottom of the Rausing Circle acting as a delay ring for the main Syva surrounds.
The audience was on its feet for much of the show, confirming that the band's adoption of L-Isa helped bring this world tour to a vibrant finale.
'Touring is becoming a more and more important part of what you do as a band, so it's exciting to think when you are writing a song how you can make it sound as amazing as possible live,' says alt-J's Gus Unger-Hamilton (keyboards/vocals). 'And now that we know what can be done [with L-Isa], it will be in our minds, for sure.'
More: www.l-acoustics.com