Evolving requirements for sound design facilities have seen Veale Associates (VA) at work creating new listening and creative spaces at UK games company Frontier Developments.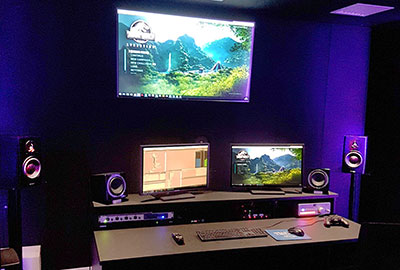 Frontier commissioned VA to create acoustic and construction designs for 12 sound design rooms, two recording studios, two audio mix suites and an A/V edit suite. The rooms were to provide sound designers with dedicated rooms that create accurate mix environments, ability to assess audio artefacts and mix the games accurately into 5.1 and 7.1-channel surround-sound formats.
'We were appointed as acoustic and studio specialist to join the design team who were planning the facilities required by Frontier for their new building and then developing the layout to accommodate the sound facilities,' says Veale Associates Principal, Eddie Veale. 'Being involved early enabled us to manage the sound isolation issues within a modern commercial building and the flanking noise through the façade glazing. The rooms needed to be compliant with industry standards and meet Frontier's uplifting work ethos and achievement.'
The sound rooms include Genelec 8030s, chosen to complement the existing monitor systems, also Dynaudio LYD7 monitors were selected to give an alternative sound perspective and comparison. SPL SMC7.1 monitor controllers handle the audio sources and deal with overall volume control, together with RME FireWire 802 interfaces chosen for their sonic quality and robustness.
'Technical challenges centred around finding an interface that could talk to the 7.1 systems and service both Mac and PC running various DAW platforms,' says VA Technical Manager, Richard Liggins. 'The RME proved to be solid and effective in all the scenarios the team needed to address. There was some discussion around the 7.1 outputs from the Developer game consoles, and eventually the audio stream was demuxed from the HDMI stream post the Wwise mix using the Conrad HDMI 7.1 demuxer before being sent to the SPL SMC7.1 controller.'
'Veale helped us create a truly extraordinary working environment. Our audio design rooms – of which there are ten-plus – are super creative spaces in which to work. They helped us achieve the perfect compromise of very low ambient noise and reflection levels while retaining generous natural light with exterior aspect. These are the perfect day-to-day rooms to work in,' adds Frontier Developments Head of Audio, Jim Croft. 'Our two 7.1 mix rooms are excellent professionally designed and calibrated reference spaces. They allow us to mix our games with the highest accuracy. Customisable colour ambient lighting allows us to set the appropriate mood for a mix session and the space feels very comfortable to be in for long sessions. Both our Foley and vocal recording and control rooms are well appointed and beautifully quiet spaces to record in. Overall we are absolutely delighted with the job Veale did for us.'
More: www.va-studiodesign.com