A new audio system has been installed by sound reinforcement specialist Skuma at the Roadhouse Luzern in Switzerland, serving its live music in the shape of jam sessions, live concerts, special events and bookings. Roadhouse originally sought a company to perform a general service on its existing audio set-up, in addition to replacing any failing or outdated components, but it quickly became evident that a more comprehensive overhaul was required.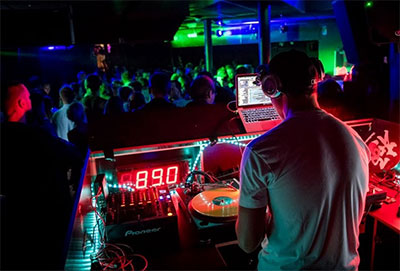 Skuma won the contract with a Dante-based proposal, using Symmetrix processing and Powersoft amplification to cover a number of zones, including the bar on the ground floor; first floor lounge; main bar (on two floors with a DJ location); smoking area; and the event bar, as well as providing background music in intermediate areas.
During the implementation period, the venue's restaurant was to stay open all week, with the existing system needing to be available right up until the change. This created a tight timeframe for the integrator, and presented a number of logistical challenges. Due to the special requirements on site, a suitable location for the audio centre was evaluated first. Since the newly installed audio system should also remain very flexible in the long-term – particularly in terms of DJ locations – the use of Dante-compatible components was essential.
The system is driven using the full range of Powersoft's Dante-enabled, fixed install-dedicated amplifiers, with three Quattrocanali 4804 DSP+D installed in the bar lounge, smoking and main bar areas; a Duecanali 1604+D for the intermediate areas; an Ottocanali 12K4 DSP+D (in Bridge mode) for the installed subwoofers; and an X4 DSP+D for the event bar.
A Symetrix Prism 4x4 was installed to take care of signal processing, with the four analogue I/O channels being preserved only for redundancy. Simple operations such as source selection and volume control can be operated from two different areas in the venue, while a Dante-capable Atterotech unDIO2x2+ I/O interface was installed at each of the three DJ locations to serve as source inputs.
To protect the speakers, the limiters (RMS/peak/clip) were set directly in the amplifiers, allowing the Symmetrix processors to save DSP power and the settings to be perfectly adapted to the connected speaker groups. The connections from the Symetrix DSP to the Powersoft power amplifiers are made by Dante.
With completion of the installation, the venue has an intuitive audio system tailored to live music, as well as being future-proof. An upper sound level limitation is set on the system, in order to adhere to the legally prescribed limit in force in and around the venue.