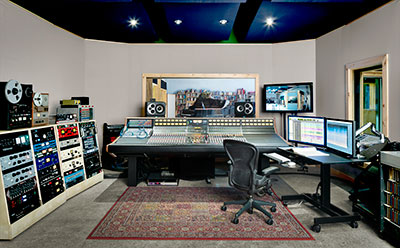 Located in Mount Vernon, New York, Oktaven Audio has installed a 48-channel API AXS mixing console in its Control Room A. Designed by Francis Manzella and co-owned by Jessica Slaven and Ryan Streber, Oktaven Audio specialises in classical, jazz and acoustic recording.
The console shares the control room space with a Pro Tools HDX system with Burl, Ferrofish, and Apogee AD/DA conversion; 24-track Studer A800 MkIII multitrack and Otari two-track tape decks, and Barefoot, PMC and Focal monitoring.
'Since we commissioned our new Legacy AXS at the beginning of September, we've had sessions nearly every day with a broad range of clients,' Streber says. 'Whatever we throw at it sounds great, and it's a ton of fun to use.
'From small chamber music sessions to full big bands, it makes tracking and mixing easier and faster. Our clients – artists and outside engineers alike – have unanimously loved it, and I continue to be thrilled with its massive flexibility, intuitive automation, and wonderful sonics.'
The AXS sale was completed with the expert assistance of Vintage King's Jason Cropper.