The relationship between London's Barbican Centre and Autograph Sales & Installations is a long and close one, which includes not only the supply of audio equipment and ongoing support but also the recent installation of a venue-wide digital transport network in the hall to assist house technicians in handling anything the diverse programme of events might throw at them.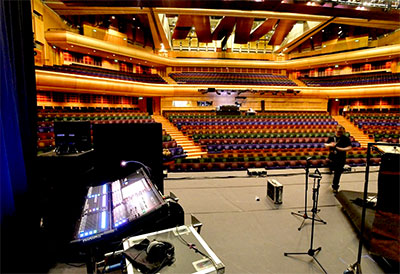 Dance, film, theatre, diverse visual arts and every conceivable genre of music are all presented by the complex throughout the year, and it's essential that the audio infrastructure is not only technically able to meet the expected standards but also offers the familiarity and rider-acceptance expected by visiting sound engineers. With this in mind the Barbican Music Department have recently completed a major upgrade to the stage monitoring system in the Hall, assisted once again by Autograph Sales & Installations.
A DiGiCo SD10 is the chosen mixing platform, joining an SD7 – the main auditorium console – and an SD9, which fulfils a number of roles depending on what's needed on the day. Likewise, the SD10 is intended principally for monitor use but can easily be deployed in numerous other roles, connecting quickly and reliably with the other DiGiCo consoles and SD-Racks using the venue's digital backbone.
After a lengthy process of evaluation, the Barbican's audio team chose d&b audiotechnik's M4 stage monitors (joining the existing inventory of d&b Max-15s), powered by D20 quad-channel, DSP-equipped amplifiers. 'Once again we found Autograph's advice and support to be invaluable on this project', says Barbican Technical Manager, Mark Bloxsidge. 'Autograph arranged demos and loans of equipment for us to evaluate in our own venue, which allowed our whole technical team to try them out before we made the decision.
'The SD10 was our first and only choice for monitors, as it's perfect for that application and works beautifully with our existing consoles, racks and infrastructure. Our schedules are very tight, so a console which connects in seconds using two fibre-optic cables is ideal.
'The d&b M4s are light and easy to handle and have a great sound with the minimum of EQ. We find that they are accepted by musicians across all genres, from Classical to EDM, which certainly makes my job easier.'