Alongside its theatre business, technical event production provider Blitz is the on-site supplier at many of the UK's most prestigious venues, and works with leading brands and agencies to produce high-end live events. The company's commitment to quality and excellence is a key reason for investing in Yamaha's flagship digital mixing system, Rivage PM10.
Blitz has a long association with Yamaha and a substantial inventory of QL and TF series digital consoles, as well as CL5s and the PM1D, one of which was used for over a decade on Phantom of the Opera in London's West End.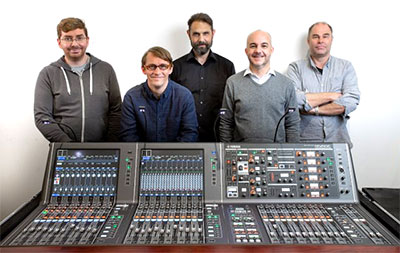 As a former touring and theatre mix engineer, Blitz Director of Sound Aron Ross appreciates the advanced capabilities of Yamaha digital mixers. Working alongside Chief Sound Engineer, Rob Handyside and head of theatre and sound project development, Martyn Hunt, all were keen to work with the Rivage PM10 digital mixing system.
'We are really excited about the new technology and the enhanced capabilities that Rivage PM10 offers,' Ross says. 'The Rupert Neve Designs Silk processing is a big draw for us and, since investing in the system, the latest firmware update has added key features for the theatre market. It broadens the scope of current offering to our clients and we are very happy to build on our longstanding relationship with Yamaha.'
Inevitably, the Blitz rental stock is rider-driven, so it is quite telling that the company has so many Yamaha digital consoles. One advantage that Yamaha offers is the commonality of user interface, so Rivage PM10 will be familiar to anyone who has worked with the company's other current mixers.
When the Rivage PM10 system was delivered during October, Yamaha's Chris Irvine, Tom Rundle and Reece Stead headed to Blitz's premises in Elstree, London, to run through some of its deeper functions. The Blitz team could also compare it with the company's other Yamaha mixers - including a PM1D, still working perfectly nearly 20 years after its introduction.
'Yamaha's support has been great all the way through, from our first thoughts of investing in Rivage PM10 through to their after-sales support,' Ross says. 'We have a great relationship and I know that they will be there for us at any time if we need them.'
The system swiftly headed to Barcelona for a major corporate event, at which the plenary speech was mixed by a renowned theatre sound engineer.
'We work with some of the most exciting clients who demand the very best. We invest in top flight people and technology to deliver that, so having Yamaha's flagship mixing system puts us in an excellent position. Rivage PM is a very exciting range and we are delighted to be able to offer it to our clients,' he concludes.
More: www.yamahaproaudio.com