Tate Modern's Turbine Hall is currently home to 10,145,133, a geo-politically orientated work by Cuban artist and activist Tania Bruguera. The piece – the title reflecting the ever-increasing number of people who migrated from one country to another last year, added to the number of migrant deaths recorded so far this year – involves both a large heat-sensitive floor and sound design by electronic artist Steve Goodman (Kode9).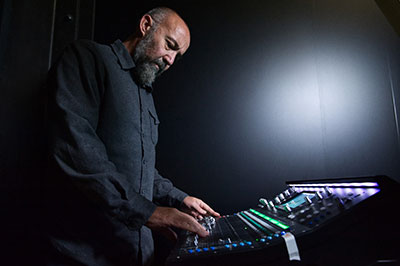 Key to the installation's audio is an Allen & Heath SQ-6 digital mixer, part of the set-up provided by Brighton Sound System.
By using body heat and working with other visitors, the work centres on a hidden portrait of Yousef – a young Syrian who has left his home country to travel to London – which is revealed beneath the gallery floor, while low-frequency sound fills the surrounding space with an unsettling energy. In a small room nearby an organic compound in the air induces tears and provokes what the artist describes as 'forced empathy'.
Brighton Sound System's Jonny Goodwillie – whose involvement both with Kode9 and Tate Britain goes back to Goodman's Audint project in 2015 – explains: 'The idea behind the sound design was to make people feel uncomfortable, for them to not be entirely sure what they were hearing, especially before the bass array is seen.
'Steve wanted to be able to produce frequencies from 30Hz-100Hz, which is the range of the system in there. There's no mid/tops at all, it's 100 per cent twin driver subs. We specified our Traction Sound Raptor bass array which is made up of Torgos (218s) and Harpia (221s), all powered by 40kW of Traction Engine amplifiers (based on Full Fat Audio) and Traction Control LMS.'
The SQ-6 was chosen for sound and function: 'Tania's work will be at the Turbine Hall until 24 February next year, so we needed to specify a desk that we knew would be absolutely rock-solid in terms of reliability for months on end,' Goodwillie says. 'We've relied on a fleet of Allen & Heath mixers – from Qu to Xone DJ products and GR rack mixers – for many years in our rental stock and have complete confidence in them, so the SQ was an obvious choice here. And it was very important to have a mixer that could deliver 96kHz high-resolution audio, to really do justice to Kode9's sound design. It's such an integral part of the work that we couldn't compromise on that front.'
The result is a thought-provoking and moving artwork that was worth the lengths Brighton Sound System had to go to arrive at the ultimate audio solution. 'We had to work closely with the whole team at Tate Modern to ensure we weren't causing any damage to the artworks or indeed the structure of the building,' Goodwillie says. 'We decoupled the system from the floor as much as possible, with anti-vibration strips using a five-layered design of high density rubber and hardboard. Everything was levelled using lasers to ensure completely uniform gaps and a level build. It was certainly a challenge, but one we were more than happy to meet. It's not every day you get to work in such an iconic building – or indeed with artists of the calibre of Tania and Steve.'
See also:
Audint installation haunts Tate Modern gallery