Abilene Convention Center's Auditorium provides community and visitors with performances ranging from world-renowned singers to hit Broadway musicals. To best serve all performances, the multi-purpose venue recently upgraded the experience with the installation of an EAW Adaptive sound system.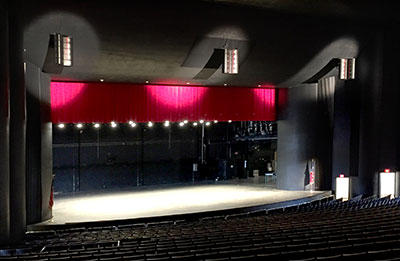 The Texas venue's management brought in Marsh/PMK International to design the new system with TMG Systems stepping in for the installation: 'I suggested an Anna system because I felt it was the most appropriate for their needs,' explains Marsh/PMK Associate Principal and Director of A/V Systems, Jerrold Stevens. 'It not only provided the coverage the room needed but the fact that we could tweak the coverage – with just a few mouse clicks – was invaluable.'
The theatre, which features continental seating and a two-level balcony, seats 2,091. One of the goals of the new sound reinforcement system was to easily modify coverage to exclude the 667 balcony seats when required. Stevens specified an LCR configuration comprising five Anna modules each. The arrays were hung 30ft off the floor, under a curved ceiling, in front of the proscenium, making installation a challenge.
'In this situation there was no way to build the array and take it up as one unit,' says Mark LaBouff of TMG Systems. 'We couldn't get a motor up there. We ended up bringing all of the rigging down through the ceiling and hung the frame. From there we brought up the boxes one at a time, and hung them individually. Fortunately, with the size of Anna and ease of rigging, it was much easier than it might have been.'
Stevens notes that another challenge was designing a system with very little information about the room. In fact, the team worked off scans of the original, hand-drawn drawing to complete the project. The information and data necessary for accurate modelling was simply not available: 'That was another reason that I thought Anna was the best fit,' says Stevens. 'I knew the system could be easily adjusted through software. So, if our designs were off a bit, it would be an easy fix – which may not be the case with other systems.'
'The end result is a significant improvement over the previous system,' LaBouff adds. 'The output is amazing. The system has significant headroom and it sounds fantastic.'
'When we fired it up, it was amazing; hair-raising. It just sounded incredible,' Stevens confirms. 'A great system in a great room that will accommodate their needs for years to come.'