With many of the world's best dressage riders relying on productions and compositions by Michael Erdmann, his Exclusive Sound Suite – a leading production studio for equestrian dressage freestyle music located in Germany – has added an Audient ASP800 eight-channel mic preamp to its inventory.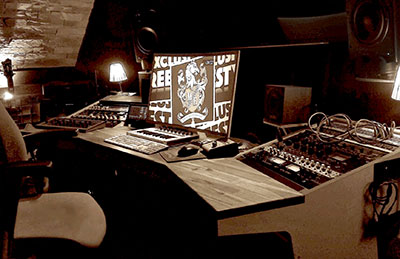 'We arrange the music in a similar way to scoring a film,' Erdmann explains. 'I receive a video of the ride or the choreography, then we create the pre-arrangement and if necessary, the orchestral arrangement. The recordings can be up to 140 tracks and are mixed in the Exclusive Sound Suite by Manni [Struck] and myself.'
This arrangement was established in 1995, when Erdmann and sound engineer Struck revolutionised the equestrian freestyle music, which can be anything from pop to classical music. Their first foray into the genre helped Isabell Werth and her horse Gigolo win a gold medal at the Atlanta Olympic Games in 1996, Now, Erdmann has every intention that Exclusive Sound Suite music will strike gold again at the forthcoming Olympics in Tokyo 2020 – this time with Audient's help.
After a test run, Erdmann decided to keep the ASP800. As a percussionist he is particularly well versed in drum recording: 'We achieved excellent results in just a few steps with the standard set-up,' he says. 'Kick in (Audix D6), snare top (Shure SM57), rack (EV PL35), floor (EV PL35), overhead (ribbon pair), kick out (Røde NTK) and room mono (Aston Spirit). 'I am a fan of devices that are easy to handle and sound right. This is absolutely the case with the ASP800.'
As well as producing other music – including dance productions and film music for German crime series Tatort – Erdmann intends to carry on with the dressage freestyle music. 'We hope to continue to set the trends there,' he confirms. 'That, and the further technical expansion of the studio, of course which is a project in itself.'
More: www.audient.com