The leading anime television channel in South Korea, CJ E&M Tooniverse has recently upgraded the audio reference clocking in its studio facilities with the installation of iClock and Ref 10 master clocks from Mutec.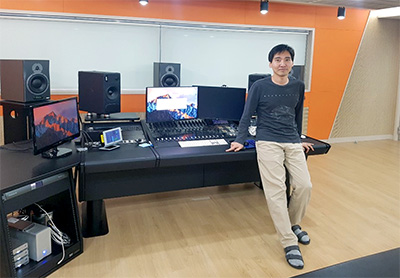 Local distributor, JD Solution, installed four iClock reference clock synthesisers and four Ref 10 reference master clocks into the channel's four dubbing rooms and two mixing suites, providing ultra-low phase noise 10MHz signals to the iClocks. Proprietary frequency generation used by the iClock offers extensive flexibility for synchronisation of different devices to one house clock. Apart from highest accuracy of audio and video synchronisation, as well as the efficient removal of clock drift (jitter), it was the improvement in audio quality that persuaded Tooniverse Studios to adopt Mutec solutions.
Sung Joo Lee, Audio Team Manager at Tooniverse Studios, now considers the audio interface and its clocking to be the most important pieces of equipment in the studio design: 'In the past, we used word clock equipment for other pro audio companies,' he says. 'Once we installed the Mutec Ref 10 & iClock we were immediately impressed by the clear sound. Before I'd been unhappy with the mid and bass frequency range but, after connecting the Ref10 and iClock, all of this was resolved. The clarity of the sound, the wider stereo image and the low-end resolution make the Avid MTRX main converter sound so much better.'
'We are proud to have successfully completed yet another large-scale installation of Mutec clocking solutions in Korea,' says Kwang Min Park, Team Manager at JD Solution. 'Reference master clocks from Mutec have become renowned for their ultra-low phase noise performance and exceptional sound quality at broadcast, mastering, and mixing studios alike.'
JD Solution has been providing professional media solutions and consultancy in broadcast and pro audio installations for major networks and studios since 2010. Since 2016, the company has been Mutec's exclusive distribution partner in a portfolio that currently also includes Avid, GML, Avalon Design, Phoenix Audio, Peluso, Eventide, PMC, BAE, Sennheiser, ADL and DMSD.