Part of The Atlantic Project festival of contemporary art in Plymouth UK, Fathom Atlantic is a sonic art installation conceived by John Matthias and Jane Grant to explore the boundaries between water and air, using only sound.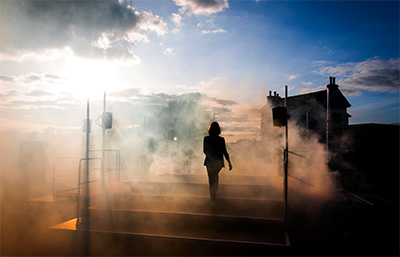 Set up at the Old Reservoir at the city's Devil's Point, it is a reimagining of the 'soundscape' originally conceived in 2014 – and on both occasions Martin Audio's MLA provided the playback. The project called sound recording engineer and technical director (and Martin Audio MLA ambassador) Simon Honywill, with one of his most challenging tasks to date…
Phase cancellation is used to produce a sonic surface, immersing visitors in an eerie above- and below-surface simulation. Pre-recorded underwater sound is mixed with live acoustic transmissions from the River Tamar, enabling the audience to 'climb through the fathom', via a platform 6ft above the ground.
Honywill used eight stacks of five MLA arrayed loudspeaker elements, in a 20m ring around a diamond shaped stage to give the sensation of surfacing from beneath the waters of Plymouth Sound, having experienced other-worldly noises of the local marine environment and the sounds of passing craft from above and below the waves.
All sounds were relayed via live hydrophones in the water at Devil's Point and a series of recorded multitrack loops, recorded by sound engineer Jay Auborn at the local dBS Studios.
Walking up the staging takes visitors out of the water into a soundscape generated by live microphones positioned above where the hydrophones were placed. This was played out using a ring of eight Martin Audio DD6, mounted on poles at exactly one fathom above the ground.
'Fathom was the first time I had ever designed a loudspeaker system intending to abuse the MLA software,' Honywill says. By this he meant he was tasking MLA to cover 7m of depth, presenting consistency of coverage to each visitor. 'I then cranked up the Hard Avoid [function] to 100 per cent and set some of the stacks out of phase, which was really effective.
'Conventional loudspeakers would not have achieved the desired effect that Jane Grant and John Matthias wanted, and from their own admissions they could never had envisaged it being as effective, and Multi-cellular Loudspeaker Array technology not been available.'
'It was great to see people interacting in any way they wanted. Some people would lay down, others would wander about or use it as a meditational experience. Of all the it achieved, for me the most significant was the way that it engaged people with sound. We are surrounded by it, yet we take it for granted because visual stimuli usually takes precedence at every opportunity.
'This was about sound for sound's sake, which for a cynical old engineer was supremely refreshing,' he reflects
More: https://martin-audio.com