A growing dynamic rental company based in Panaji, Goa, Audio Kris India has invested in its first DiGiCo SD10 and SD-Rack, and 32-Bit Mic Pre-Amp Card. The package was supplied by Hi-Tech Audio Systems to support touring and live needs for both corporate and major music shows.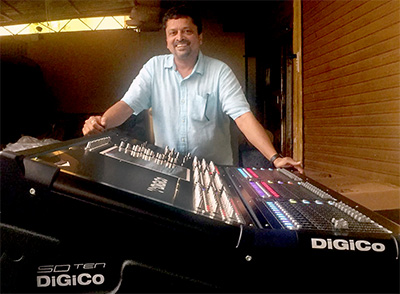 Established in 1999 by Cristovam (Cris) De Monte Furtado as an audio rental company, Audio Kris has expanded its business to include all aspect of live events. 'We have been using DiGiCo consoles since the beginning,' says De Monte Furtado. 'Their reliability, audio quality and simplicity of set-up were the main reason we chose them.
'For many years, artist tech riders include DiGiCo consoles as a requirement and we always want to satisfy our client's needs with DiGiCo. The entire team at Audio Kris is excited about the addition of the SD10, which is our third DiGiCo console.'
'Chris is determined to take his company to the next level of success by staying ahead of the competition, in terms of both knowledge and technology,' says Hi-Tech Audio Systems MD, Rajan Gupta. 'The addition of the SD10 is a turning point for the company. The purchase was made in answer to the growing demand in and around Goa, which is one of the most happening destination for global artists and musicians.'
The Audio Kris technical team have found the combination of the SD10 and SD-Rack to be one of the best all-round packages available to the industry, offering the right balance of sound quality, versatility and all-round control. The system runs via an Optocore connection.
De Monte Furtado, a long-time SD user, who began with an SD9 eight years ago, says: 'We quickly decided to add an SD10 to our inventory because of our growing list of clients, which includes various audio related events. With its high fader count, and high input and output bus counts the SD10 is the right addition for our rental stock. Plus, if you're using an SD-Rack via Optocore, the audio quality is amazing and the final outcome superb.'
Karl Da Costa, Systems and Audio Engineer at Audio Kris, shares his experience of SD10. 'Extra fader banks, additional user defined macro keys and a more elaborate control surface makes this console very hands on without having to toggle screens to get to specific functions,' he says.
'Audio Kris's SD10 has the Optocore network already implemented to accommodate the growing demand for Optocore equipped DiGiCo solutions in the market now and in the future,' concludes Nirdosh Aggarwal, Hi-Tech Audio's Director of Sales. 'We are glad that we could deliver the best to Audio Kris and we are always there to provide after-sales training and support.'