Situated on The Green in the gentrified North London suburb of Winchmore Hill, Buckle and Vaughan is a spacious bar/dining space is all about atmosphere – a commodity it was sadly lacking when it opened four years ago, largely because the sound system was insufficient for the venue's needs.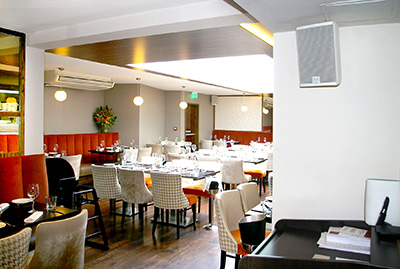 Recently, owner Neil Friar called in Penguin Media Solutions to upgrade the sound with a Martin Audio CDD6 ultra-compact solution. CDD series has provided the solution for many Penguin installations since its launch.
'It's difficult to justify installing anything other than CDD,' says to Director of Operations and Project Manager for this job, Dylan Thompson. 'It's an attractive box, produces a great sound and has a useful dispersion. On top of that, it's a recognised brand and it's sensitively priced.'
He recalls that his company had originally been introduced to the project at its inception. 'We have done previous work for the owner but for budgetary reasons they went for a local electrical contractor, and the 100V line system, with 3-inch drivers, created no atmosphere whatsoever. It would only go a couple of dB above the ambient noise and then sounded trebly and strained, with no bass, warmth or intelligibility whatsoever.'
Second time around, Penguin was given free rein, and determined to match the aesthetic of the bright décor they commissioned a total of ten CDD6 (with 6.5-inch drivers) in white. A Blackline X210 (2 x 10-inch) subwoofer has been concealed discreetly in a pre-ordained space at the bar, with a second providing LF extension in the function space at the rear. Four CDD6 speakers are wall-mounted in each of the restaurant and function room spaces, with a further pair at the bar.
An input is located behind the bar for a laptop or iPod plug in, with several other plug-in points available for private hire use and the occasional live music on a weekend. The main source material is background music piloted from a laptop, routed throughout the venue via a zoner.
'We have kept everything nice and simple,' says Thompson. 'In fact, the biggest challenge was removing the old 100V line wiring and re-cabling, while ensuring the restaurant didn't have to close – no trading was interrupted. It's a nice sounding room, acoustically, and we were able to use the factory EQ settings on the CDDs, with just a couple of minor tweaks. It has made a big improvement to the sound.'
'We are very happy we took the decision to replace the old system,' says Buckle and Vaughan General Manager, Ricardo Almeida. 'It's absolutely a major improvement.'
More: https://martin-audio.com