The second-oldest professional symphony in the US, the St Louis Symphony Orchestra has performed in the 2,600-seat Powell Hall for the past 50 years – a world-class acoustic concert hall with acoustics suited to an orchestra but less well to amplified sound. Its former sound system left spoken word for lectures and presentations difficult to understand and sometimes compromised by feedback, and amplified instruments and vocals suffering gain-before-feedback issues that were only partially remedied by destructive equalisation. After extensive research, the SLSO found that Danley Sound Labs' point-source technologies offered the solution it sought.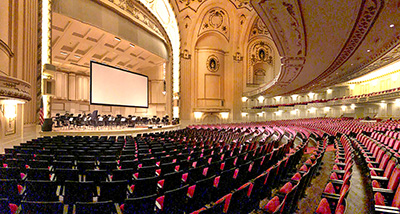 'When I first heard there was a possibility we could work with the St Louis Symphony Orchestra I was ecstatic,' recalls Danley Sound Labs President, Mike Hedden. 'The SLSO has won multi-Grammy awards so being included in their consideration was a huge honour in itself. The SLSO staff had done considerable research of all the top-line manufacturers, including many of the names that would have previously been assured of winning a high-profile application like this.
'They told us the primary criteria for awarding the project were absolute fidelity followed by high intelligibility and potential acoustic gain for their lecture series. They also said that popularity on tour had no bearing. The fact that we could actually do a demonstration for three performances so that they could experience the Danley difference was huge. We are convinced that hearing is believing. In fact, a few years ago I had a phrase put on a t-shirt, remember why you got in the audio business, sit down and listen – I was confident we'd do very well.'
SLSO Director of Operations Maggie Bailey and live sound engineer Ron Bolte worked to find a solution that would increase intelligibility without treating the room, keep sound levels down on stage, and meet Powell Hall's aesthetics considerations. 'We went about the process differently than most organisations would have gone about it,' Bolte explains. 'Everyone wanted to talk to us about brands and products, but we were focused on solving our problems by whatever means necessary. Our minds were open.'
Doug Fowler, former SLSO engineer and Danley enthusiast, made the initial introduction between Danley and the SLSO. Hedden did an initial design using Danley Direct, but long before the SLSO had committed to a solution, Bailey and Bolte inquired if a demonstration of the system was possible in Powell Hall.
'To add to the challenge – fun depending on how you look at it – one of the demonstrations would be during an actual performance,' Hedden says.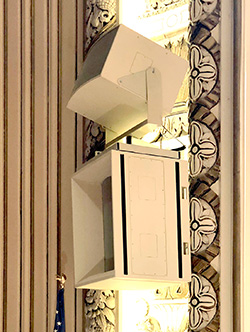 Danley's Doug Jones tuned the system and presided over the demo that proved the reality of Danley's pattern control and the uniformity of its phase-coherent output. Kirkegaard Associates, a Chicago-based performance space consultant and long-standing partner with the SLSO, assisted with the evaluations.
'Everyone involved played an indispensable role, but Doug Jones stands out as really helping out overall by bridging the lines of communication,' Bolte says of the former college professor. 'In an organisation like ours, dozens of people were involved, and Doug Jones had a way of explaining what was going on that met each stakeholder where they were at, including management, world-class musicians, and audio professionals.'
Jones brought two Danley systems that looked promising in Hedden's models, and the team agreed to the Danley J3-94 Jericho Horn. Analysis and evaluation by Kirkegaard confirmed the team's observations. A stereo pair of 440lb J3-94 Horns nowcovers most of Powell Hall's seats. Although they're solid down to 70Hz, the team installed a pair of TH118 subwoofers to get down another octave. Above each Jericho Horn, a SH62 full-range loudspeaker covers the farthest balcony seats. Two four-channel Danley DNA 20k4 Pro amplifiers and one four-channel DNA 10k4 Pro amplifier, all with integrated on-board processing and custom presets, power the new FOH system.
Jonathan Darling, former principal consultant at Kirkegaard Associates, was present for a Danley demo and for the system tuning: 'I was impressed by the evenness of coverage and tonality, from front to back and from side to side,' he ays. 'In contrast to Danley's horn-loaded design, line arrays have audible seams as you move front to back and poor horizontal pattern control that leads to a thick soup of phase interactions with near-wall reflections. The Danley boxes keep energy off the walls. They have a natural sound that doesn't exaggerate the high end, which makes the blend between amplified music and the orchestra more aurally unified. I also worked with Doug Jones to tune the system, and I was impressed by how little tuning was actually required – a good sign that we weren't tuning to overcome deficiencies in the box itself.'
In addition to the SLSO's events, Powell Hall hosts musical acts without the orchestra and events such as the Maryville University Speaker Series, which features luminaries such as former Presidents and astronauts. 'With the new Danley system, spoken word gain-before-feedback is no longer a problem, and intelligibility is outstanding. STIPA measurements to the extreme furthest seating locations was still .7,' Bolte says.
Because the orchestra also needs to hear the spoken word and any amplified instruments, the SLSO also installed a pair of Danley SBH20 column-form point-source loudspeakers for on-stage monitoring. 'The lack of pattern control with the former side fills created problems with feedback and intelligibility, which is made worse by the fact that the people they were meant to cover have some of the most discriminating ears on the planet,' said Bailey. 'The Danley SBH20s keep so much energy away from where we don't want it and the resulting intelligibility is fantastic.'
An unanticipated bonus of the Danley system was the re-use of existing rigging hardware and loudspeaker cables from the prior system. Bailey explains, 'When we started looking at the time and cost of hanging speakers and running cable all over the room for new delay rings, including the power that would have been required for some of the systems we were considering, it really added up fast. The Danley solution allowed us to re-use the rigging and cable already in place, and we're not using the old under-balcony delay.
'The partnership with Danley has been a truly collaborative effort, and we now have a system that enhances the experience of coming to Powell Hall and matches the artistic excellence of the St Louis Symphony Orchestra.'
More: www.danleysoundlabs.com