Seoul's iGodswill church recently installed an Allen & Heath dLive digital mixing system and ME personal monitoring system for its Sunday services and weekly festival events.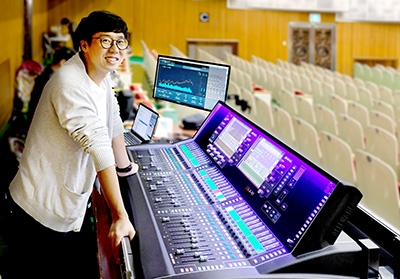 With no permanent building, worshippers travel to a local high school auditorium for the church's Sunday service – one of three services held each weekend. These are defined by their respective musical styles, the of which first features classical performances, while the second calls on 1980s pop and the third on rock. As such, the church required a versatile and easy to set up audio solution that delivered high-quality sound for a wide variety of material.
Supplied by Sama Sound, the new set-up includes a dLive S7000 at FOH, accompanied by a DX32 expander, Dante card and DM48 MixRack deployed on the hall's stage. 'dLive's user interface and strip layouts are very intuitive,' reports church sound engineer, Taechan Moon. 'Even if you aren't a professional engineer, the time it takes to learn the basics is short compared to other digital consoles.'
For rehearsals, two monitor engineers carry iPads running A&H's dLive MixPad app and interact directly with the FOH engineers, singers and performers, enabling them to soundcheck and adjust monitors quickly and easily. A PC running dLive Director software is connected to the DM48 for full control over the mix from the stage position.
A ME-U hub is also connected to dLive, which distributes audio to six ME-1 personal mixers, used by the musicians in the God's Will Praise band. The ME-1 was selected for its built-in ambient microphone, intuitive level/pan control, sound quality and fast set-up.
dLive is a very stable system in terms of sound and its connection between the MixRack, surface and Dante network,' Moon says. 'dLive allows you to easily create your own unique mix, taking advantage of the wide range of customisation and processing applications.'
More: www.samasound.co.kr
More: www.allen-heath.com