Having played a critical role in launching the careers of countless artists on the New York music scene of the 1970s and 1980s, My Father's Place has reopened in Roslyn – close to its original site on Long Island just outside the New York City limits – and is relying on a Danley Sound Labs sound reinforcement system.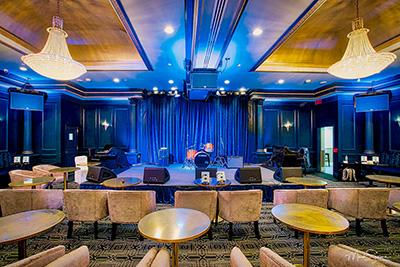 The new My Father's Place is located in the ballroom of the Roslyn Hotel, set up as a 200-seat supper club. Original owner, Michael 'Eppy' Epstein, is joined in the venture by two other music industry veterans, Alex Ewen and Dan Kellachan, as co-principals. Between the three, there is scarcely a modern musical act of national or international stature that they haven't worked with.
'We're not your average club owners,' Ewen says. 'We were very systematic about getting the perfect sound reinforcement system for our new room. Its acoustics are excellent, so we were really looking for a system that would complement the room. We didn't need a system that would fix problems.'
The trio invited numerous loudspeaker manufacturers and system integrators to demonstrate products and discuss ideas for making them work in the space. 'We kept getting offered line arrays and zone systems,' Ewen recalls. 'I rejected both approaches. Line arrays have all kinds of interference between the boxes that sounds terrible and makes it impossible to provide consistent EQ across the entire room. A zoned system isn't appropriate for a live music venue. I wanted something horn-loaded because horn-loaded boxes have consistent sound and tight pattern control, but I wasn't aware of any manufacturers who were making horn-loaded loudspeakers that sounded hi-fi.'
Frustrated with the answers they were getting, they looked to Ewen's sound man of 40-plus years, Alan Thompson, co-founder of MetroSound.
'Eppy is obviously old-school and was not looking for super processing to fix problems,' Thompson says. 'He just wanted a great sounding speaker. Tom Danley is a true genius who has developed horn-based systems that do not sound like horns but have an audiophile quality you rarely find with touring systems.
'The Danley SH69 has two 12-inch woofers and six -inch mids that wrap around the horn, and a 1-inch driver at the horn throat, so it is a new twist on an old concept.'
To offer proof-of-concept, Thompson contacted Bill Danilczyk at Eastern Stage Productions in Long Island to help demo a Danley system with program music, a live female vocalist, and a live guitarist. 'It was a full day of testing,' Thompson says. 'Bill also brought other gear as well, so we could do a direct comparison with other manufacturers.'
'It was clear that the room wanted the Danley speakers,' Ewen adds.
To offer a uniform SPL from front to back, Thompson had the unconventional idea of putting a Danley SH69 in each corner of the room. 'Over 90 per cent of the room is sweet spot, and my friend and producer David Eng commented it sounded as intimate as headphones in the centre of the room.'
A single Danley SH95 provides front fill, and two Danley CS30 subwoofers round out the low-end from cavities within the stage. Given the bass boost afforded the full-range SH69s from their corner-mounted positions, the CS30s provide a musical low-end accent. A pair of four-channel Danley DNA 10k4 amplifiers with integrated DSP power the boxes.
'The new system sounds fantastic,' Ewen says. 'The room's natural reverb works with the sound, and there is no comb filtering and no dead spots. For me, this is not about nostalgia, it is about unfinished business on my part. There are great young bands and singer-songwriters out there who need a place to play, and the music industry is broken. Kids are scrambling trying to find a way to get noticed, but you still need to play live in a good club. I want to be there for this generation – and the next one too.'
More: www.danleysoundlabs.com